Bolts, Hotshots strike back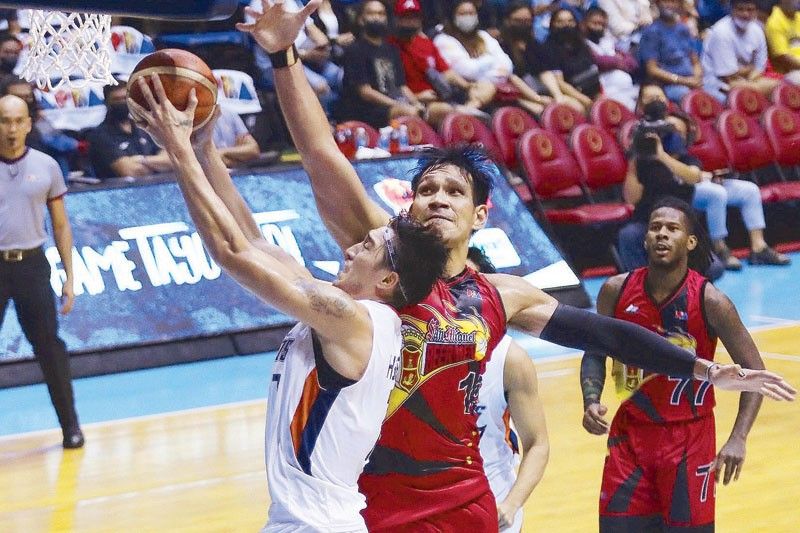 MANILA, Philippines — Meralco gave coach Norman Black a feel-good welcome-back gift in the form of a series-tying 99-88 romp over San Miguel Beer in the PBA Philippine Cup semifinals at the Smart Araneta Coliseum.
Blown to bits in the opener of the best-of-seven duel, 127-91, the Bolts powered up and made sure they wouldn't suffer the same fate in pivotal Game 2.
Not when Black was coaching his first match since June 30.
Black, who left for the United States to attend to his ailing mother who eventually passed away, was thankful to see his team in good position upon his return.
"I thanked Luigi Trillo and our other coaches over and over for holding fort while I was gone. I actually watched my mother pass so that was a very disappointing experience for me," said the veteran mentor, who still kept tabs on the team's campaign and watched every game in the wee hours of the morning in the US.
"But at the same time, the team stuck together, the players and coaches worked together to put us in a position where we still have a chance to move forward," he added.
Motivated by both Black's return plus the determination to drag SMB to a 1-1 standoff, the Bolts put up a gutsy fight and were rewarded for it.
Black's troops seized an early 37-20 lead and held tough when the Beermen got back and threatened to steal it away.
Backup big Toto Jose, providing an unlikely offensive source before fouling out, banged in 10 of his 13 points in the fourth quarter to help Meralco restore a 90-80 cushion.
Jose complemented the efforts of Cliff Hodge (17 markers, 14 rebounds), Aaron Black (15 markers), Allein Maliksi (15) and Chris Newsome (14-9-5) in this Game 2 equalizer.
Magnolia also squared things up with defending champion TNT as it hacked out a 92-88 verdict in the other game.
Mark Barroca (22), Ian Sangalang (20) and Calvin Abueva (18) took charge as the Hotshots weathered the fourth-quarter storm of Mikey Williams and the Tropang Giga and bounced back from their 108-96 opening loss.
"We needed to go back to our defensive mentality. Last time, we gave up 108, which was much higher than the 84 we allowed on average," said Magnolia coach Chito Victolero.