Philippines sending star-studded track team to Hanoi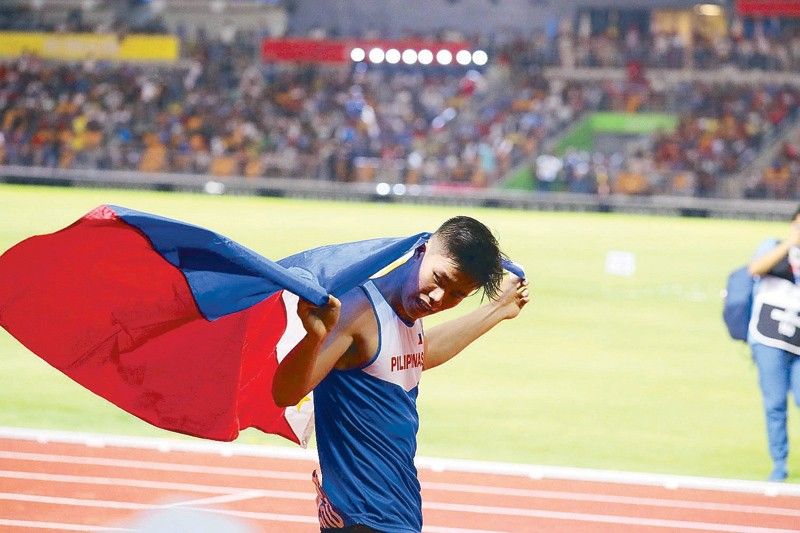 MANILA, Philippines — The Philippine Athletics Track and Field Association (PATAFA) is fielding its best team to the Hanoi Southeast Asian Games slated May 12 to 23 with an goal of surpassing, if not duplicating, its 11-gold medal haul in the last edition of the biennial meet at the New Clark City in Capas, Tarlac three years ago.
All 11 Filipino gold winners headed by pole-vaulter EJ Obiena, sprinter Kristina Knott, hurdler Eric Cray and marathoner Christine Hallasgo are in the 49-strong squad seeing action in 39 of the 46 events calendared in Hanoi.
Other 2019 SEA Games gold medalists in the roster this year are Aries Toledo (decathlon), Clinton Bautista (110-meter hurdler), William Morrison III (shot put), Melvin Calano (javelin), Natalie Uy (pole vault) and Sarah Dequinan (heptathlon).
Relay specialists Eloisa Luzon and Anfernee Lopena, who were part of the team that struck gold in the 4x100m mixed relay event alongside Cray and Knott, will compete in other events after their 2019 event was scrapped.
The PATAFA is also fielding Fil-Morrocan siblings Yacine and Said Guarmeli, who are tipped to strike gold in 800m, 1,500m and 5000m.
Yacine's best time in the 5000m is 13 minutes and 35.36 seconds, not only is a national record but also way better than the 2019 gold standard of Thai Kieran Tintivate's 14:31.15.
Said's 1500m personal best is 3:54.26, which is better than the gold medal time of 4:06.63 submitted by Vietnamese Durong Van Thai.
Also in the squad are Albert Mantua and Evelyn Palabrica, who copped the gold in the men's shot put and women's javelin throw with a 17.33m and 45.81m, respectively, in the Singapore Open yesterday.
Interestingly, Mantua edged Morrison, the defending champion who heaved just a 16.61m to settle for a silver.