San Juan Predators' homegrown players and going through the eye of the needle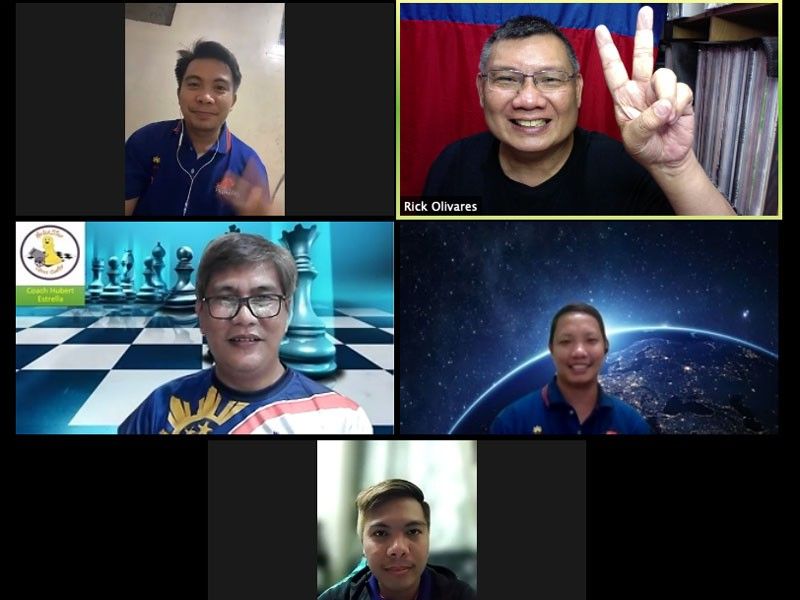 MANILA, Philippines – "Butas ng karayom."
That is how FM Arden Reyes, Archie Reyes and Narciso Gumila — the three homegrown players of the San Juan Predators — describe their San Miguel-All Filipino campaign that culminated in a championship; their second straight as they defeated the Iloilo Kisela Knights for a second consecutive time.
Mabigat yung laban sa Manila (Indios Bravos in the northern division semi-finals), related Gumila. "Tinalo nila ang defending champions, Laguna, at hindi biro kasi meron din silang Grandmaster (Ino Sadorra) at malakas na players. Kahit kinabukasan hindi pa rin ako makapaniwala na nakalusot kami kahit ganun yung score (16-5 and 15-6 in two sets)."
"Tapos, heto na naman… panibagong butas ng karayom — Pasig."
Heading into the division finals, San Juan had a three-match losing streak against the King Pirates, who had usurped them as the top dog in the division for two conferences. However, in last year's season-ending Open Conference, they were upset by the Caloocan Loadmanna Knights. This time, San Juan was ready for them.
"Makikita mo naman from the start of the conference hanggang sa conference finals, malakas yung Pasig," added Archie Reyes. 'Mga laban ko kontra kay Eric Labog Jr, ay ang hirap."
Labog was the second best player of the conference with 52 wins, six draws and eight losses for a total of 83 won points — three behind leader, GM Joey Antonio of Iloilo.
During the elimination round, Labog Jr., took four of the six points available against Archie Reyes. In the playoffs, Pasig's homegrown stud faced off against Arden and Gumila and still grabbed the lead with a 4-2 difference.
"Basta kami makakuha ng puntos okay na. Play to win, pero draw kesyo talo. Tapos tiwala sa ibang teammates na kumuha ng puntos sa mga laban nila," added Gumila.
During the two elimination round losses to Pasig, the King Pirates' homegrown boards of Eric and Marc Labog, Kevin Arquero, and Jerome Villanueva took 14.5 points to the 3.5 of San Juan's trio.
The playoffs were a reversal with San Juan taking 11.5 points to Pasig's 5.5 points.
If the top boards would previously draw, this time San Juan also took the advantage, 11.5-5.5.
The Predators advanced to the Grand Finals with a two-set beating of Pasig. Once in the finals, San Juan took the first set versus Iloilo, 16-5, then went through another "butas ng karayom" with a 1-5-all score to go into Armageddon. In the extra boards, San Juan prevailed, 2-1, to take the title.
That Armageddon was all about trust.
Prior to the shootout, Arden asked San Juan head coach if he could beg off the battle. He was getting nervous. He had struggled against Iloilo's NM John Michael Silvederio and NM Rolly Parondo. Although he did gain points, doubt crept up in him.
"I told Arden, sige na. Ikaw na ang lalaban," said Predator's head coach Hubert Estrella. "Kaya mo 'yan."
Arden did not get Silvederio or Parondo. Instead, he got their top board player in Karl Viktor Ochoa.
And Reyes felt a lump in his throat. Ochoa, faced off against Grandmasters, International Masters and National Masters. Not senior players. And certainly not homegrown players. His record at 40-9-13.
But in Armageddon, Reyes pulled off a coup with a huge win.
All three players credit team management and the coaching staff for conducting clinics (even GM Oliver Barbosa would give teach-ins).
"Malaking bagay na yung line-up namin ngayon All-Filipino Cup ay yung lineup namin nung last season," underscored Arden Reyes. "Nadagdagan pa ni Nelson Mariano at ni FM Christopher Castellano."
"Malaking bagay yung chemistry at parang pamilya kami," underscored Gumila. "Tulungan at tiwala talaga. Pero do your part din."
"Kung tutuusin, lahat ng teams lumakas, nag-build-up at nag-level yung competition," chimed in San Juan head coach Hubert Estrella. "Kami rin naman. Pero intact kami. Malaking bagay yun. At malaking reason yan kung bakit naming nakuha itong All-Filipino championship. Sabay kami dumaan ng butas ng karayom. Sabay rin kami nagtagumpay."