Carlos Yulo eyes individual all-around gold in Paris 2024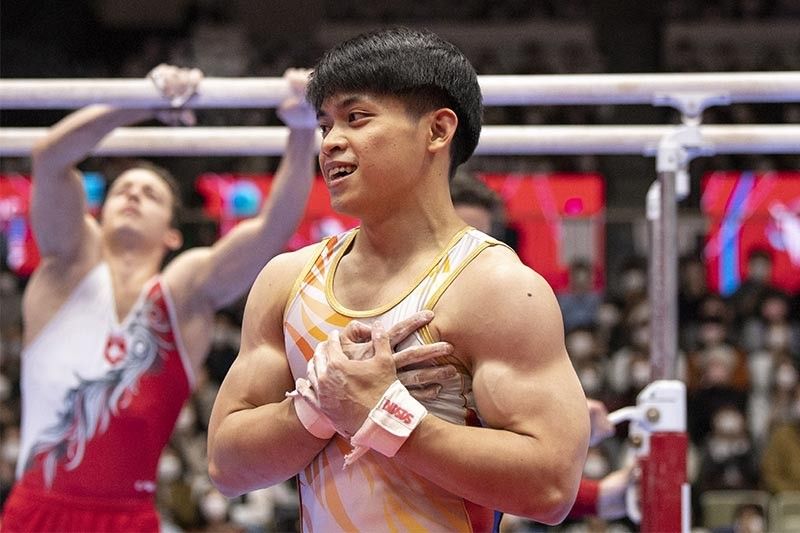 MANILA, Philippines — Filipino gymnastics darling Carlos Yulo is aiming for the gold medal in the men's individual all-around in the Paris 2024 Olympics.
Yulo, who has been world champion in both floor exercise and vault, will look to have a balanced performance come the quadrennial games two years from now.
Despite floor exercise remaining as his pet event in artistic gymnastics, Yulo says that it's been the plan all along to be the best in all events.
"Plano naman po talaga yun since 2016 po eh. Na hindi lang po dalawang events yung kaya ko," Yulo said on an episode of PlayitrightTV of the goal of winning the gold in men's individual all-around in Paris.
"Nagpapractice naman po talaga ako ng six events pero naga-add ako this time para nga po sa goal ko na makuha po yung individual all around po sa 2024," he added.
In the 2019 Southeast Asian Games, Yulo actually finished in the podium in all events.
He won gold in floor exercise, and silvers in pommel horse, still rings, vault, parallel bars and horizontal bar.
His great performances in each event ended up with him taking the gold in men's all-around as well.
Yulo's coach Munehiro Kugimiya believes that a gold in all-around at Paris is possible, just as long as he works toward his goal.
"Just like [Caloy] said, just training every day," said Kugimiya.
But first on Yulo's calendar will be the 31st Southeast Asian Games set to unfurl in May at Hanoi.
The world champion recently arrived in the Philippines to spend time with his family after more than two years of training.