Philippines' McDaniel laser-focused on stopping Chinese Taipei in penalties for historic win
January 31, 2022 | 10:46am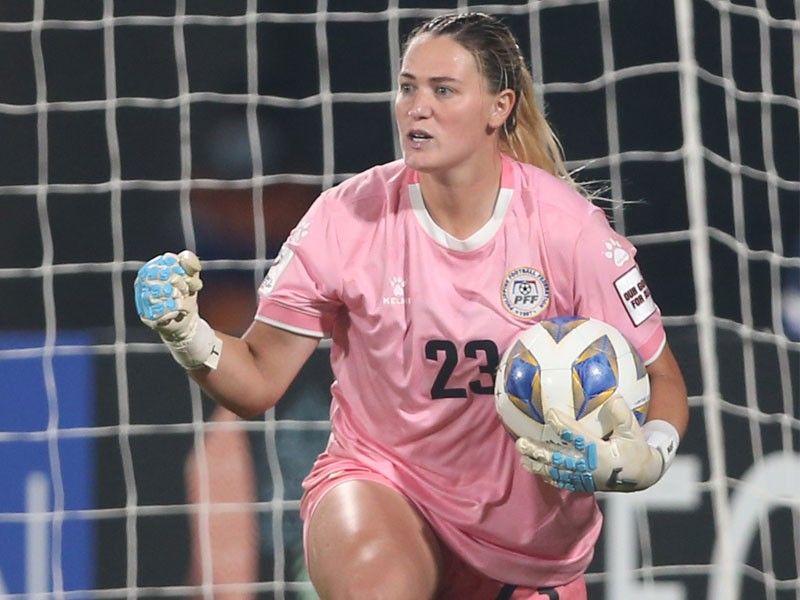 MANILA, Philippines – Philippine women's football team goalkeeper Olivia McDaniel looked calm and collected against Chinese Taipei as their crucial quarterfinal match extended to penalty shootouts on Sunday in Pune.
McDaniel, in only her fourth cap for the Philippines, played a huge role in clinching a historic berth to the FIFA Women's World Cup after making two crucial saves in Chinese Taipei's fifth and sixth penalty kicks.
Not only that, but she also needed to net a PK of her own to force sudden death after Jessica Miclat and Hali Long missed their respective shots.
After the match, the 24-year-old shared her mindset in between the goal sticks in those nerve wracking moments.
"To be honest, I thought it's make or break right now and you need to show up for your team right now," McDaniel said.
"There was nothing else going through my head but you're gonna make this save, you're going to do this. Luckily it worked out that way," she added.
The Philippines were at the brink of losing an outright berth to the World Cup when Long missed the fourth PK.
Chinese Taipei only needed to net their fifth shot, but McDaniel stood tall in between the goal posts and stopped the ball to leave the door open for the Filipinas.
She then made her own PK to bring the shootout to sudden death.
Sarina Bolden found the back of the net for what would be the game-clinching penalty but not before another McDaniel save against Zhou Li-Ping, who actually scored in regulation to equalize for Chinese Taipei.
McDaniel revealed she actually had little to no pressure in being on the other side of the PK as she was pegged as the fifth PK taker for the Philippines.
"I was more nervous to stop the PK than to take the PK," McDaniel said.
"I've been hitting PKs for forever and I get no nerves when I go up and take a PK because I know it's gonna at the back of the net," she added.
After making history in India, the Philippines march on in their AFC Women's Asian Cup campaign as they seek another historic win in the semifinals.
They face South Korea for a spot in the final on Thursday, February 3.