Reserves fuel Heat rampage versus Suns
January 10, 2022 | 12:00am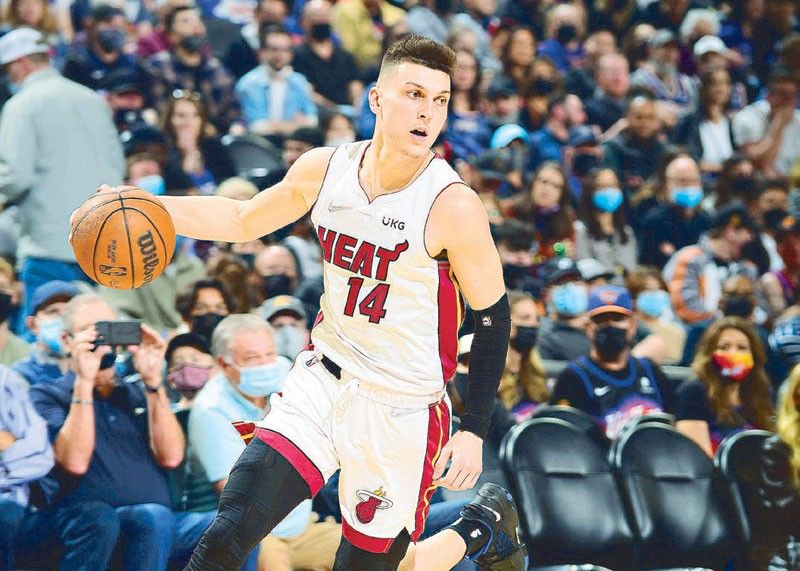 MANILA, Philippines — Tyler Herro scored a game-high and season-high 33 points, and Duncan Robinson added 27 points as the Miami Heat knocked off the host Phoenix Suns 123-100 on Saturday night.
Herro's 33 were two short of Miami's franchise record for high-scoring game by a reserve. Herro made 12-of-20 shots, including 3-of-4 on 3-pointers in 34 minutes. Robinson made 8-of-16 from behind the arc, also off the bench, and his 27 points were also a season high.
The Heat, who shot a scorching 50 percent from 3-point territory, also got 14 points and a game-high 13 assists from Kyle Lowry. Teammate Omer Yurtseven added a game-high 16 rebounds to go with eight assists and seven points.
The Suns fell to 17-5 on their home court. They were led by Devin Booker, who scored 26 points but made just 5-of-15 shots from the floor. Phoenix also got 20 points from Mikal Bridges, and star point guard Chris Paul was held to nine points and seven assists, making just 3-of-9 shots.
In Los Angeles, Jaren Jackson Jr. scored 26 points, Desmond Bane shot 5-of-8 from 3-point range and scored 23 points, and the visiting Memphis Grizzlies used a dominant second quarter to overwhelm the LA Clippers, 123-108.
Memphis began the first leg of a weekend back-to-back in Los Angeles with leading scorer Ja Morant sidelined due to a thigh injury. Without Morant's production (25.0 points, 6.6 assists per game), the Grizzlies struggled early and fell behind by as many as 12 points in the first quarter.
A 10-0 run early in the second quarter sparked a 38-20 period for Memphis, and the visiting Grizzlies never trailed in the second half en route to their eighth straight win.
Domantas Sabonis scored a career-high 42 points on 18-of-22 shooting, and Lance Stephenson contributed 16 points and 14 assists off the bench to lead the Indiana Pacers past the Utah Jazz, 125-113, in Indianapolis.