No setting Suns; Jazz down Pelicans
November 29, 2021 | 12:00am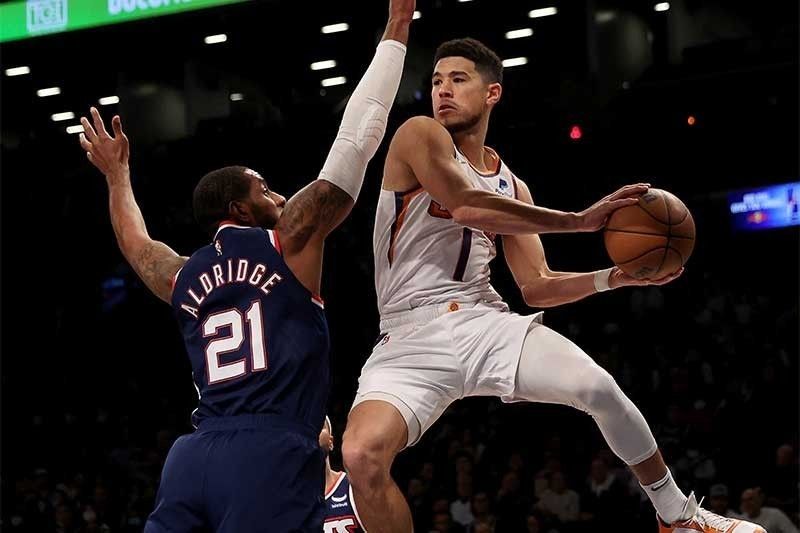 MANILA, Philippines — Devin Booker scored 30 points as the Phoenix Suns never trailed, survived a late comeback attempt by the host Brooklyn Nets and pushed their winning streak to 16 games with a 113-107 victory Saturday night.
The Suns are on their second-longest winning streak in team history. Phoenix can match the 2006-07 team for the longest winning streak in franchise lore by beating the Golden State Warriors on Tuesday.
Chris Paul added 22 points, eight rebounds and five assists. Paul shot 9 of 19 and notched his 5,000th career rebound in the second.
Kevin Durant led all scorers with 39 points, but Brooklyn saw its four-game winning streak stopped.
Donovan Mitchell scored 21 points, Mike Conley and Jordan Clarkson each added 20, and Utah rebounded from recent disappointing performances at home to rout New Orleans, 127-105, in Salt Lake City.
Mitchell, Conley, Clarkson, Rudy Gay and Joe Ingles each drained at least three 3-pointers as the Jazz shot 57.1 percent (20-for-35) from long range and 56.2 percent overall to avenge Friday's heartbreaking last-second 98-97 loss to New Orleans.
Taurean Prince hit a layup with 4.8 seconds left in double overtime to lift Minnesota past host Philadelphia, 121-120, in 76ers star Joel Embiid's first game since Nov. 6.
D'Angelo Russell led the Timberwolves with 35 points while Karl-Anthony Towns added 28 points and 10 rebounds before fouling out. Anthony Edwards contributed 19 points and Naz Reid had 13. Jarred Vanderbilt swept 14 rebounds.
Embiid returned from a three-week COVID-19 absence to produce 42 points and 14 rebounds for the Sixers. Embiid had his shot blocked as time expired in the second overtime.
Alec Burks, making his first start of the season, scored 15 of his team-high 23 points to spark a decisive third-quarter run as visiting New York went on to defeat Atlanta, 99-90.
The 23 points were a season high for Burks.