Lim drops weight for world tilt
October 21, 2021 | 12:00am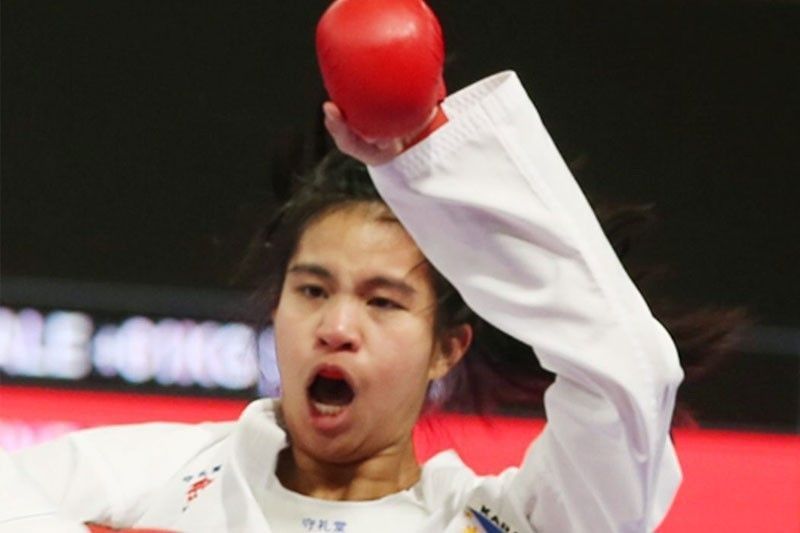 MANILA, Philippines — SEA Games karate +61 kilogram gold medalist Jamie Lim will compete in the -61 division at the World Championships in Dubai on Nov. 16-21 as she makes an adjustment after organizers finalized the women's kumite weight categories at -50, -55, -61, -68 and +68. The Philippines will be represented by Lim, Junna Tsukii (-50) and kata specialists Joco Vasquez and Sarah Pangilinan in the competitions at the Hamdan Sports Complex.
Lim and Vasquez are now training in a Baguio bubble set-up for 15 karatekas and five coaches, including Okay Arpa of Turkey. Tsukii will join the team in Dubai from Serbia and Pangilinan from Japan. The plan is to arrive in Dubai on Nov. 11.
In the last SEA Games, the women's kumite divisions were -50, -55, -61 and +61. In the Olympic qualifiers in Paris last June, the classes were reduced to -55, -61 and +61 so Tsukii, who struck gold in -50 at the SEA Games, had to move up to -55. But in Dubai, Tsukii will be back in -50 and Lim down to -61. Karate Pilipinas Sports Federation president Ricky Lim said the drop to -61 will improve the UP Math summa cum laude graduate's chances. "Jamie beat the 2016 world champion (Alisa Buchinger of Austria) in the Olympic qualifiers," said Lim. "She really needs more exposure to be able to gain more confidence and control of the game, same exposure as Junna. It's the first time she'll fight in a lower class."
Jamie said the coaches decided she's a better fit at -61. "My actual weight really ranges from 61-62," she said. "In Baguio, I'm getting used to sparring again and the weather although we recently lost power for two days because of the typhoon. We're continuing to work hard."
Lim said Tsukii is training in Serbia. "She wanted to come back here and join the team in Baguio but coach Okay insisted to stay in Serbia and just train there under his supervision online," said Lim. "If she comes home, there will be quarantine and it's too long without training so better to remain in Serbia. Meron naman sparring partner at naka online si coach Okay while she's training."
Lim said the proposal is to send 15 karatekas to the SEA Games in Hanoi this May. How many will participate in the Asian Games in Hangzhou, China on Sept. 10-25 next year depends on the athletes' SEA Games performance. "(POC president) Cong. Bambol (Tolentino) wants only strong players with good chances of winning for the Asian Games so we'll select only the best," said Lim. As for the Paris Olympics in 2024, Lim said karate has been scratched from the calendar but he's hoping it will be reinstated. "Not yet final since France won a gold medal in karate in Tokyo (-67 Steven Da Costa) and lawmakers are trying to bring it back as one of the events in the Paris Olympics," he said.