Gilas women blown out by mighty China in FIBA Women's Asia Cup opener
September 27, 2021 | 10:49pm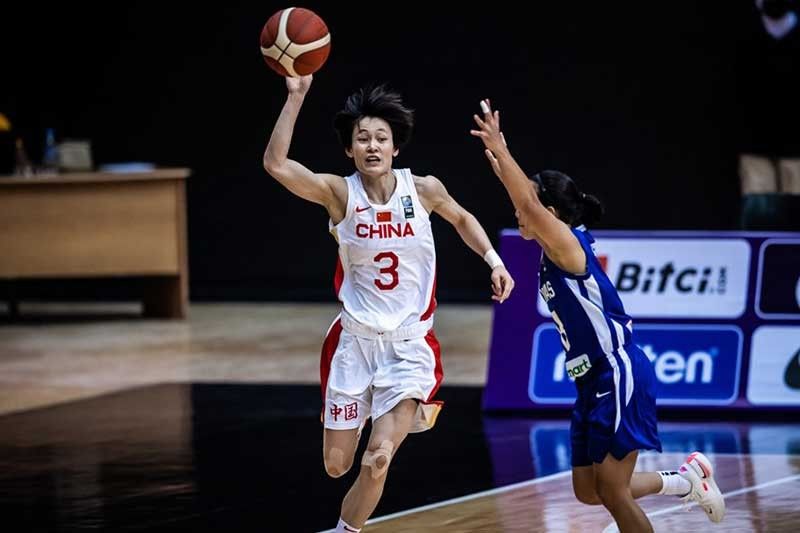 MANILA, Philippines — The Gilas Pilipinas women's squad was unable to stage an upset against World No. 7 China, losing in lopsided fashion, 143-52, in their FIBA Women's Asia Cup opener in Amman, Jordan on Monday.
Going up against a taller Chinese squad whose average height stands a good three inches taller than the norms of the Gilas women players, the Filipinas just couldn't get anything going.
Yang Liwei, who stands 5'9", paced the Chinese with 21 points.
Meanwhile, the towering 6-foot-9 Xu Han asserted herself inside with 17 points and 6 rebounds.
The Philippines' woes were compounded with the fact that Gilas' only legitimate center, Clare Castro, got into foul trouble that caused her to miss minutes in the game.
She eventually fouled out at the 6:15 mark of the fourth salvo.
It was all China from the get-go with the Gilas women only coming within striking distance in the first couple of possessions.
The game was really blown wide open for China in the third quarter where they outscored the Philippines, 39-9.
In the wire-to-wire loss, the Gilas women were closest to the Chinese after their first bucket of the game when they trailed by one point, 3-4.
Afril Bernardino led the Philippines with 17 points, seven rebounds, two assists, two steals, and two blocks, while fellow Gilas women veterans Janine Pontejos and Mar Prado scattered seven and six points, respectively.
All 12 players saw action for Coach Patrick Aquino in the country's first taste of action since the 2019 SEA Games.
Four players, Camille Clarin, Ella Fajardo, Kristine Cayabyab and Karl Ann Pingol, all made their debuts for the seniors national team.
Meanwhile, China, which last played in the Tokyo Olympics, played all but one player.
Meng Li did not see action.
The height of China also showed in the team comparisons in statistics against the Philippines.
Gilas women were outrebounded, 55-23, and China had 68 points in the paint compared to the Philippines' 24.
The Filipinas will play again Tuesday (Wednesday midnight, Manila time), going against Australia.