Obiena wants space, puts plans on hold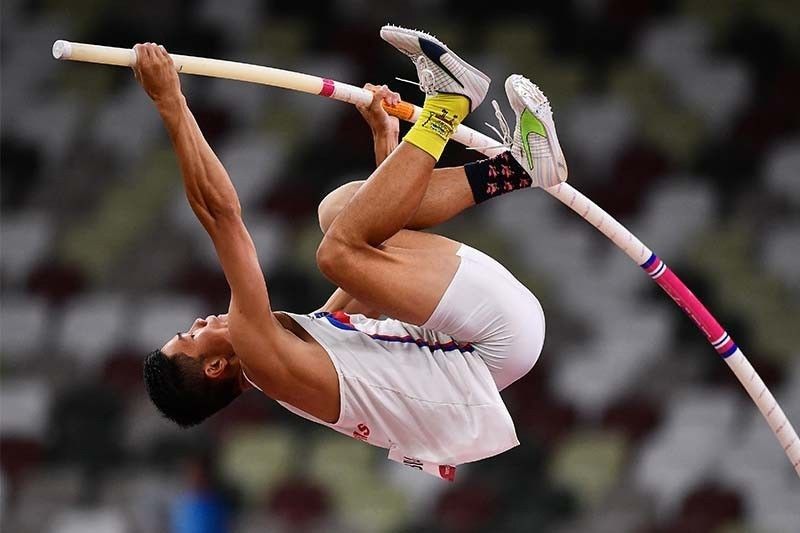 MANILA, Philippines — After almost two years of being away training and competing abroad, Olympian pole-vaulter EJ Obiena wants to go home.
"Kung ako lang masusunod, gusto kong umuwi, gusto kong huminga," said Obiena during yesterday's emotional online presser hosted by the Philippine Athletics Track and Field Association (PATAFA).
"I just don't want to think of what I'm gonna do, I just want to let the time pass, but I know that's not the right thing, that's not the responsible thing to do right now."
Obiena was obviously heartbroken as he missed his target to medal in the Tokyo Games, finishing 11th in the final of the event ruled by Swedish pole vault superstar Armand Duplantis.
He wants a heart-to-heart talk with his coach Vitaly Petrov to map out their next plan.
"I'm gonna talk to my coach, try to understand what he wants me to do, and try to think about what I would want to do and maybe we could find a compromise," he said.
Obiena said he's talked to his mom Janet.
"At 1 a.m. (12 midnight, Philippine time), I called my mom. What's good about my mom, she understands I need space," he said.
While his fellow Filipino Olympians are looking ahead, Obiena didn't mention anything about the Southeast Asian Games, the Asian Games or the 2024 Paris Olympics.
He left an empty page for the next chapter of his sporting life.
"Today (yesterday) pa lang yung plan ko. At the moment, I don't really wanna know if I'm gonna compete, if I'm still gonna continue on what I'm gonna do. I have no idea yet," said Obiena.
"A lot of things are still not in the way. Kumbaga hindi pa ayos, wala pa ako sa ganung lugar ngayon," he added.
Obiena bombed out of the medal fight after failing to clear 5.80m.
Seven competitors soared through, including eventual winner Duplantis (6.02), silver medalist Christopher Nilsen (5.97) and Thiago Braz, the dethroned champ who settled for bronze this time at 5.87.
Obiena became a hot topic back home not for a medal feat but for fighting for what he thought was right.
"May gray area. We discussed it, at mabait 'yung technical official, pinagbigyan tayo," said Obiena, the morning after the competition.
It was on his second aborted run at 5.80m that would have been an automatic elimination for the Filipino.
Obiena, who rued that the jump clock was already running when the bar was still being adjusted, was given another chance but narrowly missed that attempt, too.
And there ended Obiena's Olympic quest.