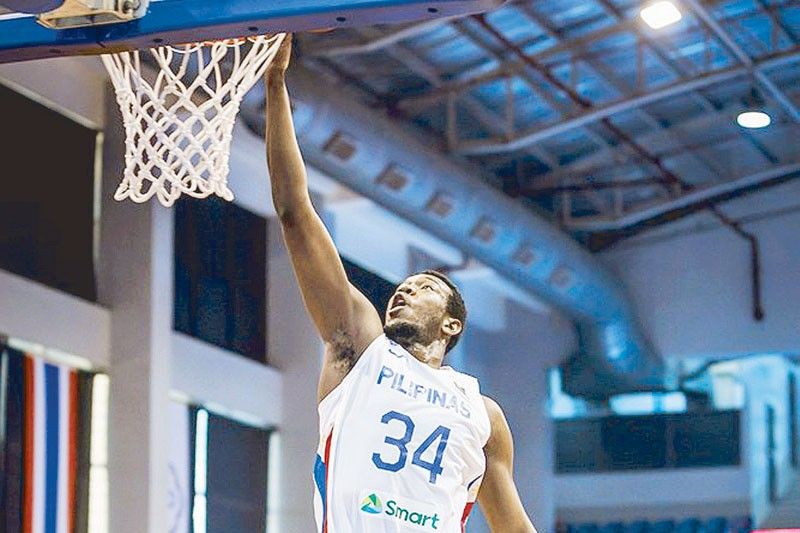 Gilas' Angelo Kouame scores on an uncontested layup versus the Indonesians.
FIBA.com
Young Gilas team raps Indonesia
Olmin Leyba
(The Philippine Star) - June 19, 2021 - 12:00am
MANILA, Philippines — Gilas Pilipinas shifted to high gear in the second half to romp off with a 76-51 triumph over pesky Indonesia last night in the FIBA Asia Cup Qualifiers at the AUF Gym in Pampanga.
After a listless start, the Filipinos cranked it up and asserted themselves against their upset-conscious opponents to pave the way for their fifth straight victory in Group A.
Coach Tab Baldwin utilized a tall lineup composed of Kai Sotto, Justine Baltazar, Ange Kouame, Jordan Heading and Dwight Ramos to take the fight out of Lester Prosper and Indonesia in the third period.
The intimidating unit conspired to unleash a telling 11-0 blast to push the home team comfortably ahead, 46-31, from a tight 35-31 count.
From there, the rest of the gang, including 18-year-old debutant Lebron Lopez, picked up and completed the followup to their for-the-ages 81-78 upset of South Korea two nights before.
The do-it-all Ramos submitted a double-double statline of 10 points and 12 rebounds to go with three steals and one assist for a +18 efficiency.
Ramos backed up Kouame and Baltazar, who shared top scoring honors for the victors with 11 apiece. Kouame and Baltazar also grabbed five and nine boards, respectively, as Gilas dominated rebounding 58-31.
Youth-laden Gilas wasn't as fluid in the first 20 minutes, allowing Indonesia to stay close.
"We failed to execute in the first half but we're able to recover in the second half," said Baltazar.
Baldwin talked to the team during intermission about maintaining discipline.
"We really lacked self-discipline and discipline of the culture we're trying very hard to establish," he said.
"And without that, we'll be pretty ordinary and we don't want to be ordinary. We want to be an elite team that deserves respect from the people. We discussed a few things and we came out of halftime with a different attitude."
Prosper led Indonesia (1-4) with 22 markers, eight caroms and four blocks.
Gilas, which had already secured a ticket to the Asia Cup proper, can sweep the qualifiers by repeating against Korea tomorrow.
Meanwhile, Japan walloped Chinese Taipei, 98-61, to clinch a spot in the Jakarta Asian meet.
Naturalized player Gavin Edwards turned in 21 points, four rebounds and six assists as the Japanese improved to 2-1 for five points in Group B and sealed their qualification with a game to spare.
Makoto Hiejima (15), Kosuke Kanamaru (14) and Avi Koki Schafer (11) also produced twin digits in Japan's bounceback win after their 57-66 loss to China the other day.
Chinese Taipei suffered back-to-back defeats and slipped to 1-3.
Edwards and Kanamaru struck early as Japan stormed to a 14-0 tear against the youthful Taiwanese and never looked back.