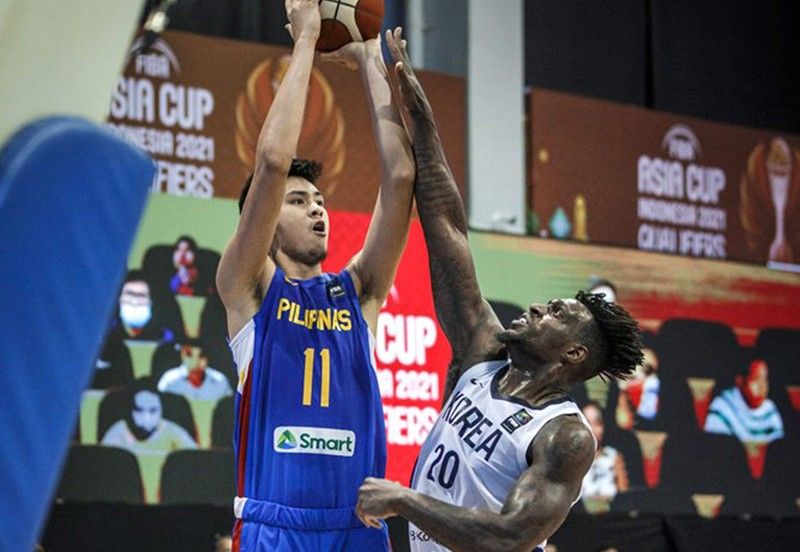 Gilas Pilipinas' Kai Sotto towers versus South Korean naturalized player Ra Gun-a during the first half of their game last night at the AUF Gym in Pampanga.
FIBA.com
Olmin Leyba
(The Philippine Star) - June 17, 2021 - 12:00am
Young guns shock Koreans
MANILA, Philippines — Breaking the South Korean chokehold, redux.
Youth-laden Gilas Pilipinas revisited the legend of 2013 as it ambushed nemesis South Korea, 81-78, in the FIBA Asia Cup Qualifiers last night at the AUF Gym in Angeles, Pampanga.
The Gilas young guns bravely climbed out of a 17-point deficit and used what's traditionally a Korean weapon – the three-pointer – to get the job done and send countrymen watching on TVs and digital devices in jubilation.
SJ Belangel, the smallest man on the floor but one with the biggest heart, knocked down a last-gasp trey off the glass to seal the massive upset that broke the dreaded "Korean curse."
With this underdog triumph, the gutsy all-cadets squad replicated the legendary exploit of their Gilas "kuyas" who in 2013 famously beat the Koreans after a string of losses, 86-79, in an emotional Asia Cup semifinal game at the MOA Arena.
It was 5-0 since then and Korea was threatening to make it 6-0 at the start of the final window.
But coach Tab Baldwin and his gutsy crew planned otherwise.
"I don't think there's any question that these young guys are going to compete," said Baldwin, who drew superb efforts from basically everyone in his 12-man crew.
"There's always gonna be a question about: Can our talent stand up to the opponent's talent? Or can our lack of experience stand up to the experience of others? But not their heart and not their desire to fight," he added.
Belangel finished with 13 points to backstop Dwight Ramos, who fired a team-high 16 and contributed significantly in Gilas' third-quarter fightback.
Naturalized player Ange Kouame (with 12 points, six rebounds and one assist) and men's team debutant Kai Sotto (11-7-2) held their own against Korea's American-born Ra Gun-a, who logged 24-15-2.
Carl Tamayo also did his share and shot 10, including a big jumper that gave Gilas a 68-64 lead with 5:13 left.
Gilas held a 78-75 lead after Kouame's split but Lee Hyung Jung tied it all up from the deep, giving the Filipinos 2.9 seconds to try to win it.
Ramos inbounded the ball to Belangel for the dagger.
The Philippines stormed to its fourth straight win in Group A while dealing Korea its first loss in three starts.
Meanwhile, China posted its first win of the qualifiers via a 66-57 disposal of Japan.