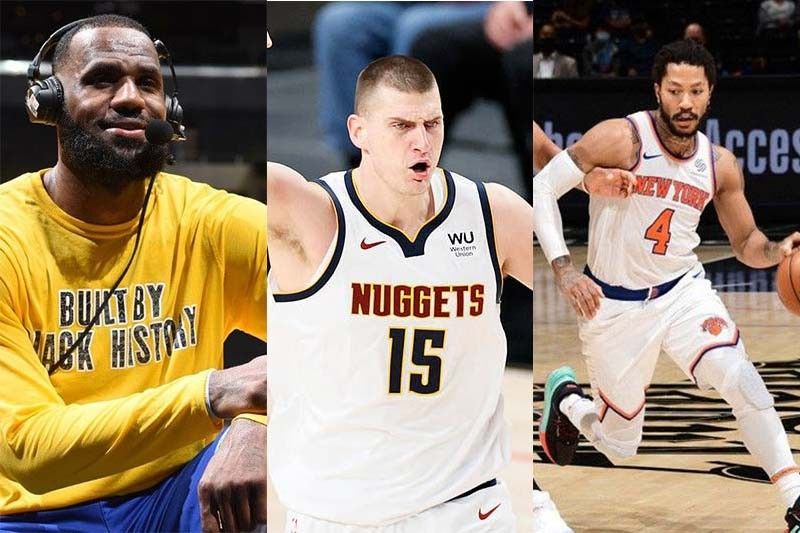 In the voting breakdown released by the NBA where Nikola Jokic (C) ran away with the win, some stats stood out for Derrick Rose (L) and LeBron James
AFP
NBA MVP voting: Jokic runaway winner; LeBron continues streak; Rose with surprise vote
MANILA, Philippines — Nikola Jokic was named the 2020-21 Kia NBA MVP on Tuesday (Wednesday, Manila time) with a landslide victory of 91 votes out of a hundred to get the plum.
But that might be the most surprising stat in the breakdown of MVP votes.
Released by the league shortly after the announcement of Jokic's win, some numbers from the voting jump out.
Full MVP balloting results: Jokic gets 91 first-place votes; Curry next with five. pic.twitter.com/qqWr6aG9BN

— Marc Stein (@TheSteinLine) June 8, 2021
First and arguably the most surprising is New York's Derrick Rose getting a single vote for MVP — which, as reported by the Associated Press, didn't come from the media.
Meaning, the 2011 NBA MVP got the nod of the fans, who are awarded a single point for their cumulatative choice for the top plum.
Also getting a single vote is Los Angeles Lakers' star LeBron James — albeit for fifth place.
While this may not be an impressive stat by itself, it marked the 18th consecutive year where James has received at least one vote for MVP.
Also getting one fifth place vote each — which is equivalent to one point — is former MVP James Harden of Brooklyn and Kawhi Leonard of the Los Angeles Clippers.
Meanwhile, for the MVP finalists, Golden State Warriors' Stephen Curry came in second to Jokic with five first place votes.
He, however, was third overall with 453 accumulated points from the voting while Philadelphia 76ers' Joel Embiid had 586.
The big man out of Cameroon only had a single vote for first place, though.
Also getting first place votes were Milwaukee Bucks' Giannis Antetokounmpo with one and Phoenix Suns' Chris Paul with two.
Luka Doncic, Damian Lillard, Julius Randle, Rudy Gobert, Russell Westbrook, and Ben Simmons round up the list of those who received at least one MVP vote this year.