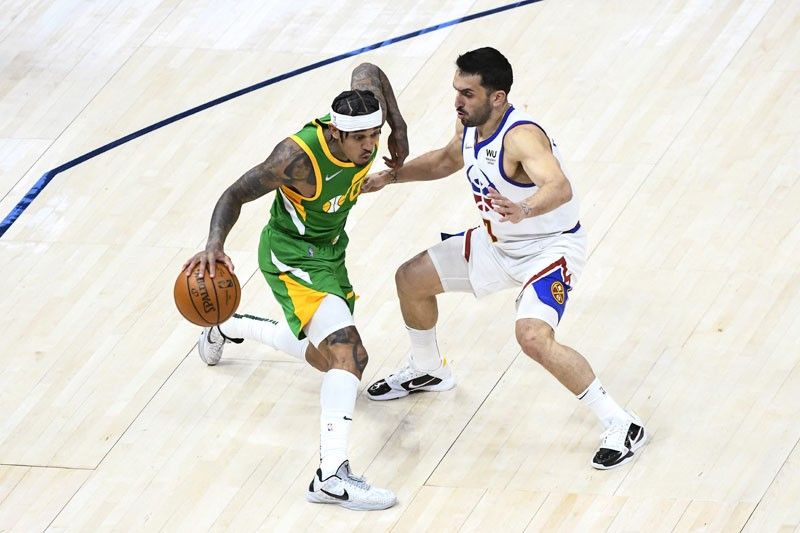 Jordan Clarkson of the Utah Jazz shakes off Facundo Campazzo of the Denver Nuggets at Vivint Smart Home Arena in Salt Lake City, Utah Friday.
AFP
Jazz in harmony; Lakers in trouble
(Agence France-Presse) - May 9, 2021 - 12:00am
Salt Lake City, Utah – Bojan Bogdanovic torched Denver for a career-high 48 points as the Utah Jazz remained in top spot in the Western Conference with a 127-120 victory over the Nuggets on Friday night.
The under-manned Jazz were without their dynamic guard duo of Donovan Mitchell and Mike Conley, but throughout their injury absences other Utah players have been stepping up and Friday it was Bogdanovic's turn.
"I'm playing better. I'm shooting the ball better," Bogdanovic said. "So I'm getting in the right shape in the right moment right before the playoffs."
Mitchell has missed the last 11 games with a right ankle sprain and Conley has missed six straight games with a hamstring injury.
Jordan Clarkson had 21 points and eight assists for the Jazz, who improved to 48-18 and are one game ahead of Phoenix for the top seed in the Western Conference. Rudy Gobert had 14 points and nine rebounds, Georges Niang had 13 points and Joe Ingles had 10 points and nine assists for the Jazz.
In Portland, Damian Lillard put on a show for the fans, scoring a game-high 38 points as the Trail Blazers defeated the slumping Los Angeles Lakers, 106-101, in a key positional game as the playoffs draw closer.
CJ McCollum scored 21 points for the Trail Blazers, who moved into sixth place in the Western Conference while dropping the Lakers into seventh place. The top six in the conference avoid this season's new play-in round.
The Lakers have lost eight of their last 10 games.