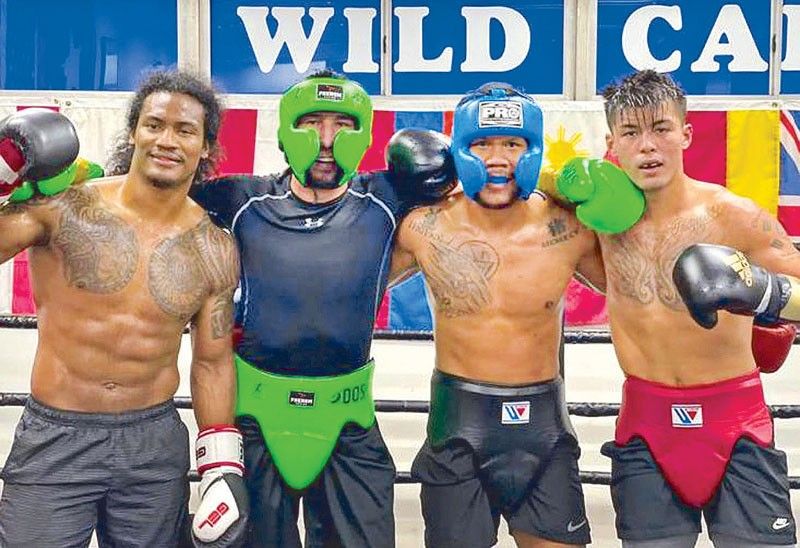 Eumir Marcial (wearing blue headgear) with sparmates (from left) Israel Duffus, Petr Khamukov and Aidos Yerbossynuly at the Wild Card Gym.
Sean Gibbons
MANILA, Philippines — Olympic middleweight qualifier Eumir Marcial is scheduled to arrive in Manila on a Philippine Airlines flight from Los Angeles early this morning and will proceed to Zamboanga City to visit his ailing father Eulalio before rejoining the Philippine boxing team to leave for training camp in New Delhi on May 7. Accompanying Marcial on the flight are IBF superflyweight champion Jerwin Ancajas, Ancajas' manager/trainer Joven Jimenez and Ancajas' sparmate Jonas Sultan.
MP Promotions head Sean Gibbons, who arranged Marcial's training with coach Freddie Roach at the Wild Card Gym the last six months, confirmed the flight as he bid goodbye in LA last Sunday. "Eumir's supposed to go to India on May 7, that's why he's coming back," said Gibbons. "He'll see his Dad then go to this big tournament in India."
The Philippine boxing team is now training in Thailand then moves to New Delhi for more training and competes in the Asian Elite Men and Women Boxing Championships on May 21-31. Asian Boxing Confederation president Anas Al Otaiba said the event will "assess and evaluate readiness of Asian boxers for the Olympics … (and) provide the highest competitive atmosphere and platform for upcoming boxers and will be conducted in accordance with all safety measures."
Sultan was supposed to fight in Tijuana on April 24 but the bout has been scrapped. Gibbons said Sultan will see action in the Philippines instead. Featherweight Mark Magsayo, whose US trip was also arranged by Gibbons, will stay in LA with wife Frances. The Magsayos have been in LA since July. Magsayo has won fights in Los Angeles last October and in Connecticut last April 10.
A plan to send Filipino boxing coach Jerson Nietes to join Marcial in LA was scuttled with the latest development. The Association of Boxing Alliances in the Philippines (ABAP) was set to fly over Nietes who was issued a US visa last Monday. Marcial went through rigorous training under Roach and last week, sparred with Panama lightheavyweight Israel Duffus, Russian amateur middleweight Petr Khamukov and Kazakh supermiddleweight Aidos Yerbossynuly. In their session, Marcial nearly knocked out Khamukov, a veteran of 98 amateur fights with 80 wins. Yerbossynuly has a 15-0 record, with 10 KOs and is in line for an IBF supermiddleweight title eliminator. Gibbons said Roach brought in top-level sparmates with a deep amateur background to prepare Marcial for the Olympics. "That's the goal," said Gibbons. "Tokyo gold medal or bust."