Filipina gymnasts in Hungary: The golden pursuit to Paris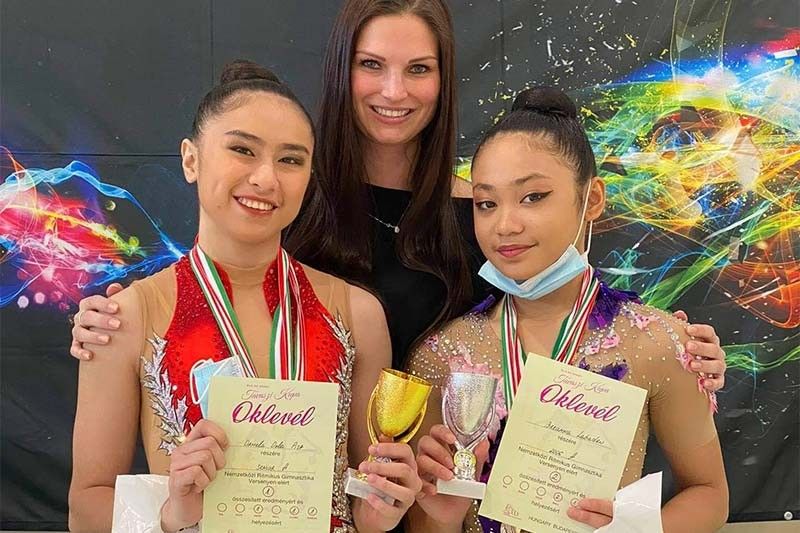 MANILA, Philippines — "They perform like European gymnasts now."
One might be tempted to think that Arnold Labadan's remarks about his daughter, Breanna and Daniela dela Pisa, are biased given one of them is his daughter and that he sponsors the girls' training in Budapest, Hungary.
As they say, the proof is in the pudding.
Eighteen-year old Daniela won gold medals in the Hoops and Clubs while 15-year old Breanna bagged gold medals in the Ball and Ribbon competition in the Hazimano Kupa 2021 in Budapest this past March 20.
Under the watchful eye of Hungarian coach Dora Vass and their Filipino coach Efren Torres, Breanna has amassed 13 gold, three silver and three bronze medals across different competitions in Southeast Asia (Malaysia, Singapore, Thailand and Hong Kong) and Europe (Hungary, Slovakia, Denmark, Russia, and Greece) while Daniela has brought home 12 gold, four silver and four bronze medals in the same time frame.
"They perform like European gymnasts now."
Suddenly, Butuan City, Agusan del Norte — where the girls ail from — is a world and a lifetime away.
Budapest is almost 15 hours away by train. Not too far. Not too near.
That can be said for the goal for both girls which is the 2024 Paris Olympics.
Along with Torres, they moved to Budapest almost four years ago; a tremendous sacrifice where they are away from their family, friends and familiar surroundings in pursuit of a goal.
Arnold, the father knows the cost of the upkeep of the trio along with Vass as their coach is a massive undertaking. Burt such is a love for his father who has backed up his daughter's passion and goal more than 10%.
"Adjusting was hard but we got the hang of it so it is easier now," succinctly described Breanna of their undertaking. "And the training and the facilities are so much better than what we have in the Philippines. But moving to Hungary was a mix of different emotions and feelings – being excited and nervous."
"The language here is hard to speak; one of the most difficult in the world," added Coach Efren. "They speak English, but not too much."
If before the calls back home were frequent and quite long, nowadays, it's fewer and far shorter.
"One way to deal with the homesickness is not to talk to my parents (who are now in Manila)," added Breanna. "It is a coping mechanism for me. If I keep talking to them, then I get homesick."
"For me, I watch videos on YouTube and shows on Netflix," chimed in the soft spoken Daniela.
Added Coach Efren, "If the calling home is too frequent, the girls end up crying and it affects them emotionally and mentally."
And that is why Torres is there. He puts on a myriad of hats from assistant coach, to chaperone, to older brother, to the cook, and well, confidant.
"When I cook for them, everything is weighed as they have a strict diet," said Torres. "They have cheat days when they can pig out, but not during times of competition."
During their first week or so at Budapest, Dora Vass greatly helped their assimilation to the local culture and climate. Then she buckled down to work.
At 30, Vass is a multi-titled Hungarian rhythmic gymnast who has won 38 gold medals in her home country and participated in six World Championships (where she made it to the all-around finals in three of them), as well as 10 European championships.
"She's very good," observed Breanna of their coach. "We're lucky to have her as our coach."
It was Vass who suggested that Torres come along with the girls to Hungary and he has proven himself to be not only a valuable asset to the team, but also to gymnastics in Budapest where he too serves as competition judge.
More than that, Torres designed the leotard uniforms of the Hungarian national team during the last European championships. He is awaiting citizenship as well with Arnold saying then when the mission to Paris is done, he can choose to stay in Hungary and chart his own path.
However, for now, l eyes are on the prize and keeping the girls' minds busy with school work and gymnastics without sacrificing comfort.
Each has their own room that is sizeable, with a window view so they do not get claustrophobic, and the simple trappings of being young girls — stuffed toys, bags, books and clothes.
They go out for sightseeing, shopping, or even for fun and games. And every several months, they come home to the Philippines.
However, when it's training time, the game faces are on.
"All three of them are now in Hungary making their own names," concluded Arnold. "They have to appreciate this journey they are undertaking because this doesn't happen for everyone. They have to make the most of it."
And hopefully for Dora Vass, Daniela dela Pisa, Breanna Labadan and Efren Torres, the train or even the flight they take is Olympic-bound.