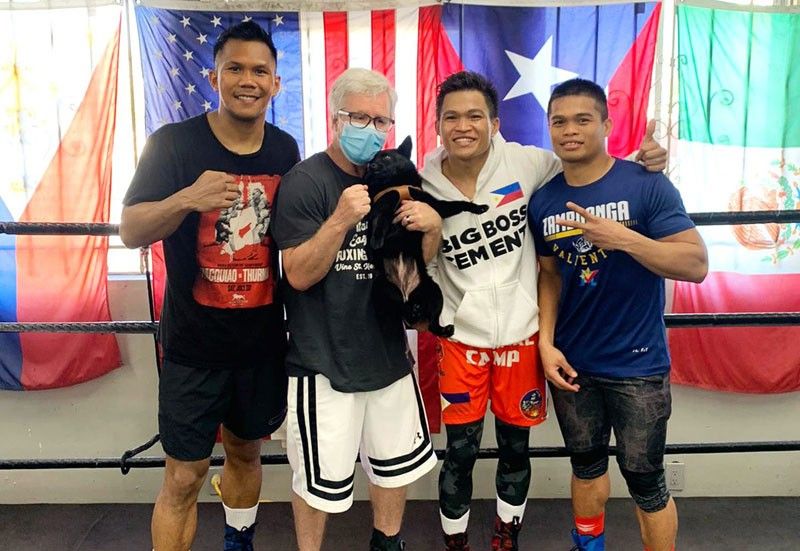 Freddie Roach with (from left) Eumir Marcial, Jerwin Ancajas and Jonas Sultan.
STAR/File
Ancajas girds for April defense
MANILA, Philippines — IBF superflyweight champion Jerwin Ancajas is set to make the ninth defense of his crown against dangerous Mexican mandatory challenger Jonathan Javier Rodriguez at the Shrine Auditorium in Los Angeles on April 17 or 24. It will be Ancajas' first fight since halting Chile's Miguel Gonzalez in Mexico in December 2019 and he's been working out in Los Angeles the last five months.
Ancajas, 29, started reporting at the Wild Card Gym last Wednesday to step up training and will spar in Freddie Roach's facility MWF with the other days in the week reserved for drills at the makeshift gym with a 16x16 ring in the backyard of the L. A. home where he stays with trainer Joven Jimenez, sparmate Jonas Sultan and Olympic middleweight qualifier Eumir Marcial.
Rodriguez, 25, has stayed active during the pandemic and last December, stopped Julian Yedras in the first round in Monterrey. He improved his record to 22-1, with 16 KOs compared to Ancajas' 32-1-2, with 22 KOs. Jimenez said Ancajas and Rodriguez are friends on Facebook but they're hardly friendly. "Pinagyayabang ni Rodriguez ang training niya, lagi may post," said Jimenez. Ancajas isn't taking the Mexican No. 3 contender lightly. Rodriguez gained notoriety by sending two-time world title challenger Felipe Orocuta to the hospital for seven weeks after scoring a 10th round KO in 2019. The Ancajas-Rodriguez bout has been postponed twice but it's finally coming off the wraps in April.
Marcial trains six days a week with Roach and Marvin Somodio. He's keeping in shape banging with heavier sparmates who can take his punch. The other day, Marcial sparred with a supermiddleweight. Marcial plans to stay in L. A. up to April then return to Manila to rejoin the ABAP team for the final training stretch before the Tokyo Olympics. A second pro fight may be in the works for Marcial but it's not certain. Another Filipino training at Wild Card is world-ranked featherweight Mark Magsayo who's in line for a fight on April 10.