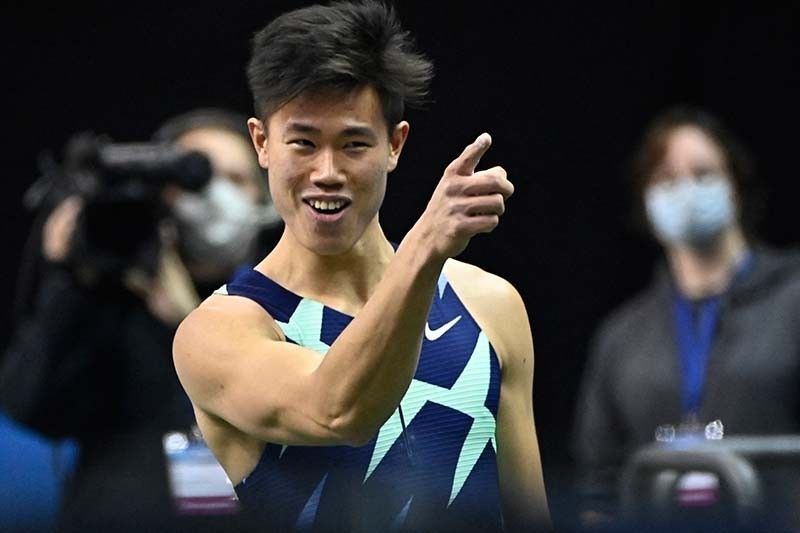 EJ Obiena
TOBIAS SCHWARZ / POOL / AFP
Podium finish doable, says EJ
MANILA, Philippines — Olympic pole vault qualifier EJ Obiena wrapped up his campaign in the European indoors with a haul of two golds, a silver, a bronze and two fifth place finishes against world-class opposition but more than the medals, he acquitted himself as a survivor under tough pandemic conditions.
Obiena, 25, traveled alone from his temporary base in Padova, Italy, to Germany, France and Poland, lugging his poles, for the three-week tour. After his final tournament in Torun, Poland, last Thursday, Obiena returned to Padova then to his main base in Formia but it wasn't an easy route. The airline that brought him to his first stop in Germany refused to load his poles on the way back and he had to rebook another flight. Obiena drove five hours in a rented car from Torun to Krakow where he boarded a flight to Milan then motored another two hours to Padova and seven hours more to Formia, his final destination. Ukrainian coach Vitaly Petrov and physiotherapist Francesco Viscusi stayed in Italy while Obiena did the rounds of the European indoors.
Obiena said he has learned to speak Italian because "it (rebooking and renting cars) happens so often." PATAFA president Popoy Juico and secretary-general Terry Capistrano are closely monitoring Obiena's movements, providing all-out support with PSC. Juico said Obiena's next competition will be in the European outdoors. Capistrano said it's heroic that Obiena is sacrificing abroad, away from family, for the chance to bring honor to the country.
"I'm calling it done for the indoors," said Obiena. "I think next competition would be in the summer during the outdoor season. Coach Vitaly plans my competitions and I trust what he thinks would be the best." Obiena said he'll likely head to Tokyo for the Olympics straight from Italy in July, meaning no home visit beforehand, but at the moment, his focus is just to get better each day. "I'm not yet putting my head around Tokyo," he said. "I'm taking it one day at a time but still knowing it's there. Just focusing on how I could get better. A podium finish in Tokyo is the goal and I believe it's possible and doable."