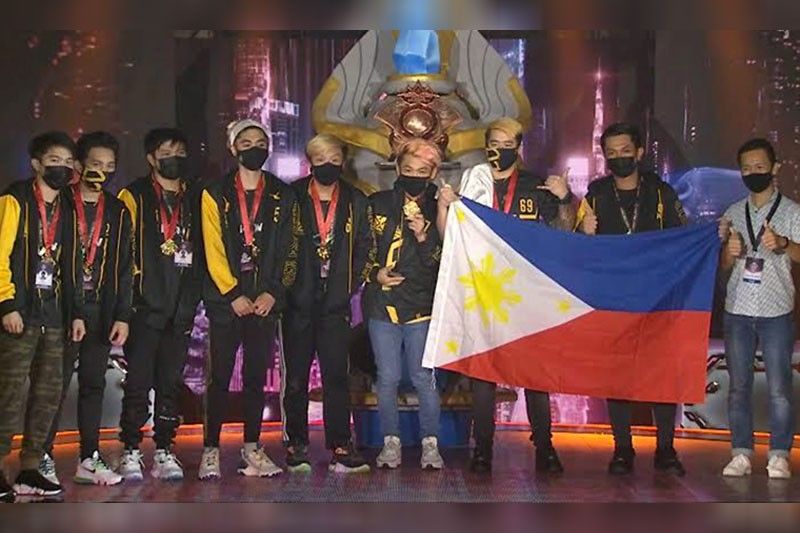 Members of the victorious Bren Esports hoist the Philippine flag during the awarding ceremony in Singapore.
STAR/File
Pinoys on top of Mobile Legends world
(The Philippine Star) - February 10, 2021 - 12:00am
MANILA, Philippines — Bren Esports took a scary roller-coaster ride to rule the Mobile Legends M2 World Championships in Singapore last month, staving off elimination on countless occasions and pulling through in the end.
Capping off its exceptional run with a come-from-behind win over the Burmese Ghouls of Myanmar in the grand finals, Bren Esports put itself atop the Mobile Legends echelon.
The Filipinos, though, had to go through the eye of the needle before claiming the title and the top prize of $140,000 (around P6.7 million).
After finishing the group stage unbeaten, Bren Esports found itself in the lower bracket following a stunning sweep against the Burmese Ghouls in the first round of the playoffs. But it was in the lower bracket where Bren Esports proved its mettle, taking down Malaysia/Singapore league champion Todak, MPL Invitational winner Alter Ego and Indonesia league titleholder RRQ Hoshi.
Bren Esports shone particularly against Alter Ego in the lower bracket semifinals, where Karl "KarlTzy" Nepomuceno delivered a memorable performance against the team that many predicted would win it all.
Bren Esports clinched the first two games of the grand finals against the Burmese Ghouls. The latter, however, nailed the next three games to move on the cusp of the title and push Bren Esports to the ropes.
But the Filipinos were not to be denied, and in the end emerged as the best Mobile Legends team in the world.