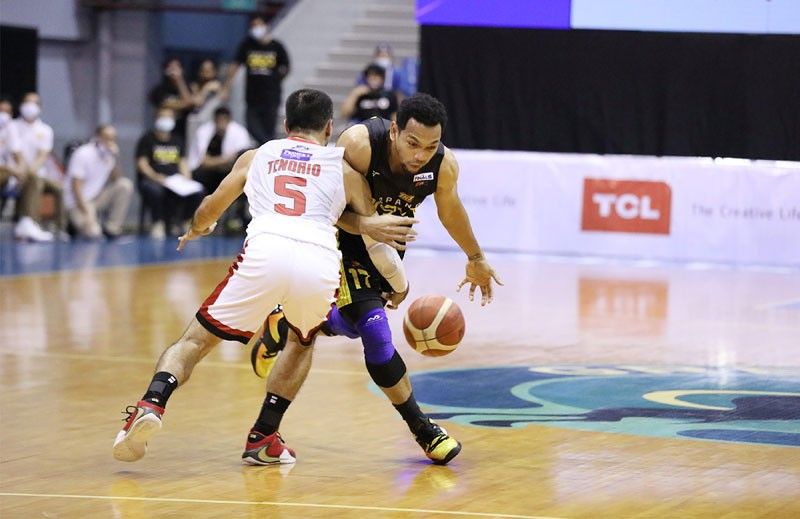 Jayson Castro of TNT Tropang Giga is clipped by LA Tenorio of Ginebra in Game 3 of the best-of-seven finals last Friday.
PBA Images
Olmin Leyba
(The Philippine Star) - December 6, 2020 - 12:00am
SMART CLARK GIGA CITY, Pampanga, Philippines — Get on the hill or get on equal footing.
Barangay Ginebra and rejuvenated TNT Tropang Giga clash in crucial Game 4 today, both bent on tipping the balance in their race-to-four duel for the coveted PBA Philippine Cup diadem.
The Gin Kings hold the lead, 2-1, despite yielding a 67-88 blowout Friday. They're keen on making good on their second chance to get win No. 3 and move one victory away from the PBA crown jewel.
But the Tropang Giga, back on their feet in the bubble finals, are deadset on leveling things up in the 6 p.m. encounter at the AUF Sports Arena Powered by Smart 5G.
"I told the players we're not here to win a game. We're here to win a series," said Ginebra coach Tim Cone after their missed opportunity to take a commanding 3-0 upperhand.
"We're still in control of the series. They broke whatever little momentum we had and we'll see if we can get it back."
TNT finally broke through after losing back-to-back winnable games (94-100 in overtime and 90-92). It hopes to build on this as it tries to make it a 2-2 affair.
"It's still the same mindset. We're still down. We have to win this game to even the series. We have to play smarter and better," said Tropang Giga coach Bong Ravena.
He is hopeful that Ray Parks Jr. can plunge back into action after sitting out Games 2 and 3 due to calf injury.
"Ray is still under observation. Hopefully he'll be good to go in Game 4," said Ravena, who nonetheless challenged the rest of the gang to step up again in case Parks can't play yet.
The Tropang Giga drew strength from their tough defense to take their first win. They stifled the usually explosive Gin Kings to their lowest finals output under Cone.
"It all goes back to defense. We stick to our (defensive) rules, we'll have better chances of winning," said Ravena, who noted that their "breakdown" in defense allowed Ginebra to come back and steal the first two games.
The Gin Kings, meanwhile, are quickly moving on from that embarrassing Game 3 loss.
"They deserved to win that game. But we'll go from there, see what happens," said Cone.