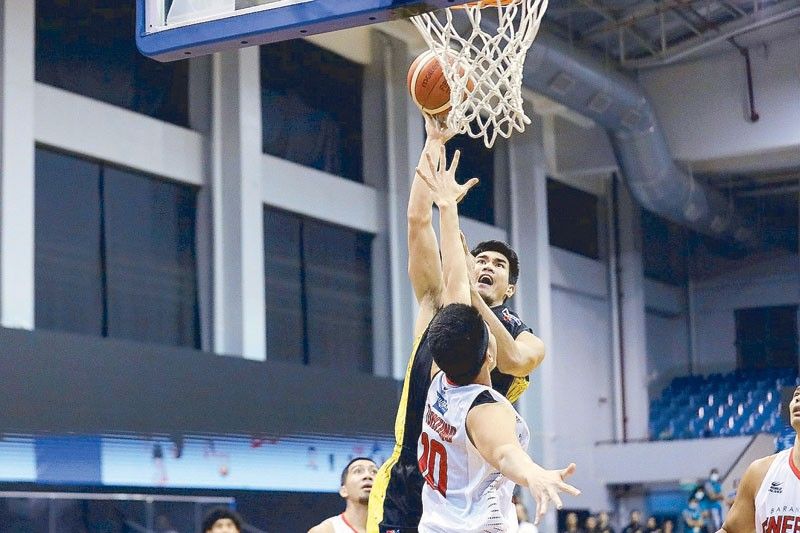 TNT's Troy Rosario soars for a tear-drop shot against Ginebra rookie Arvin Tolentino early in Game 3 at the AUF Sports Center in Angeles, Pampanga.
PBA Image
Tropa show great resolve, stop Kings
Olmin Leyba
(The Philippine Star) - December 5, 2020 - 12:00am
SMART CLARK GIGA CITY, Philippines — Signal strength restored.
Keeping up the fire for the entire 48 minutes, the TNT Tropang Giga secured a pivotal 88-67 romp over Barangay Ginebra to make it a 2-1 affair in the PBA Philippine Cup finals last night.
Back-against-the-wall TNT seized control with a telling 23-8 exchange in the second quarter and sustained the charge all the way home to finally break through in the race-to-four series at the AUF Sports Arena Powered by Smart 5G.
As opposed to what transpired in their first two losses, the Tropang Giga held strong in the face of the familiar Ginebra fightback and unleashed their own finishing kick to pull through and revive their bid for the crown jewel.
"We played with a sense of urgency because we're down 0-2 and we didn't want to go to a 0-3 hole, which is so difficult to recover from," said TNT forward Troy Rosario, who got over a personal slump and posted 15 points and two blocks in the crucial win.
Rosario joined a pack of heroes for the defensive-minded TNT, which did things by committee to offset the absence of injured top gun Ray Parks Jr. The super sophomore sat it out for the second straight game due to calf injury.
RR Pogoy fired a team-high 18 markers with six rebounds and six steals, while Jayson Castro shot 15 with 10 assists and Simon Enciso and Poy Erram added 14 and 12, respectively.
Enciso was chiefly instrumental in putting the cuffs on Ginebra gunslinger Stanley Pringle, who coughed up 11 on a 4-of-14 field shooting (28.6).
Overall, TNT's stifling defense held the Gin Kings to 23-of-65 (35.4 percent). Ginebra's 67-point output was the franchise's lowest in the finals in the Tim Cone era.
"We stuck to our rules especially on defense. If we could only be consistent on defense, we'd have a better chance of winning," said TNT mentor Bong Ravena.
Ginebra erased TNT's 15-point lead with a major uprising in the third but the Tropang Giga countered with a 10-2 salvo to restore a 66-56 upperhand at the end of the period.
The Tropang Giga continued the rampage in the final canto, where they even went up by as many as 22 at 88-66, to put the game away.