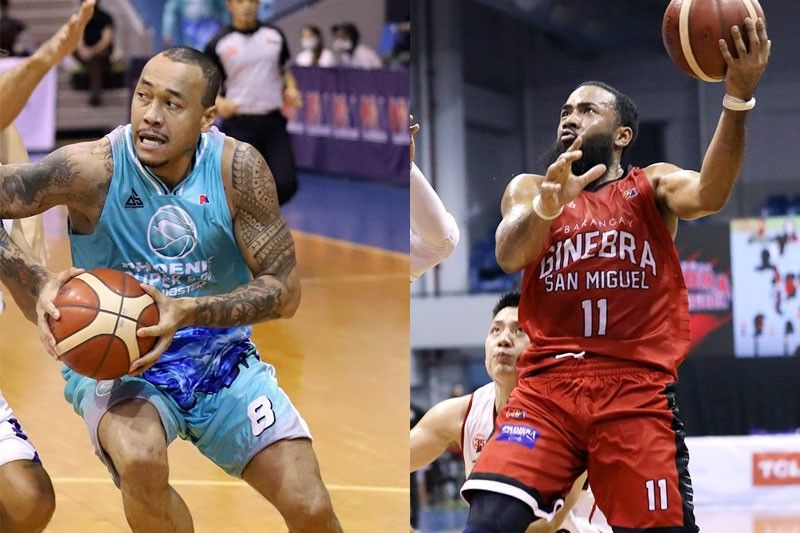 Calvin Abueva at Stanley Pringle
STAR/File
Olmin Leyba
(The Philippine Star) - November 25, 2020 - 12:00am
Philippine cup final four windup
SMART CLARK GIGA CITY, Pampanga, Philippines — Is it time for a never-before-seen titular matchup in the PBA featuring Barangay Ginebra and Phoenix Super LPG?
The Gin Kings and the Fuel Masters sure hope so as they try to wrap up their respective semifinal series in four games today and forge a peculiar showdown for the vacant Philippine Cup throne.
Ginebra, a pre-tournament favorite bannered by the explosive Stanley Pringle, seeks the clincher in the race-to-three contest against the Meralco Bolts at 3:45 p.m. at the AUF Sports Arena Powered by Smart 5G.
Phoenix, a rising power gaining from the return of the do-it-all Calvin Abueva, goes for the TNT Tropang Giga's jugular at 6:30 p.m. and a breakthrough trip to the PBA finals.
Ginebra coach Tim Cone, whose charges got on the hill via a 91-84 Game 3 victory Sunday, said they have their work cut out in closing out tough Meralco.
"We have to make sure we don't have a repeat of Game Two," said Cone.
He reminded the Gin Kings how they lost badly in the second match (77-95) after handily winning the series opener (96-79).
"We've got to be more ready this time around. Physically both teams were able to recover with the extra day between games but that also gave Meralco time to work on adjustments. We expect them to come out firing on all cylinders," Cone said.
"It's a must-win situation for us, do-or-die," said Meralco counterpart Norman Black. "We just have to get the job done, play a lot better than we played last game offensively and defensively, and bring a high energy level."
Improving from last time is also what Phoenix tactician Topex Robinson prescribed for the finals-gunning Fuel Masters.
"We're not really focusing on finishing off (TNT) on Wednesday or anything else. We just want to be a better team than we were last Sunday," he said after their pivotal 92-89 victory.
TNT's Bong Ravena said the Tropang Giga are ready to face this challenge of survival.
"The pressure is there but we're not panicking. All we have to do is play harder and play smarter," he said.
He pointed out that their two losses were "winnable games" that slipped out of their hands due to "failure to execute important plays."