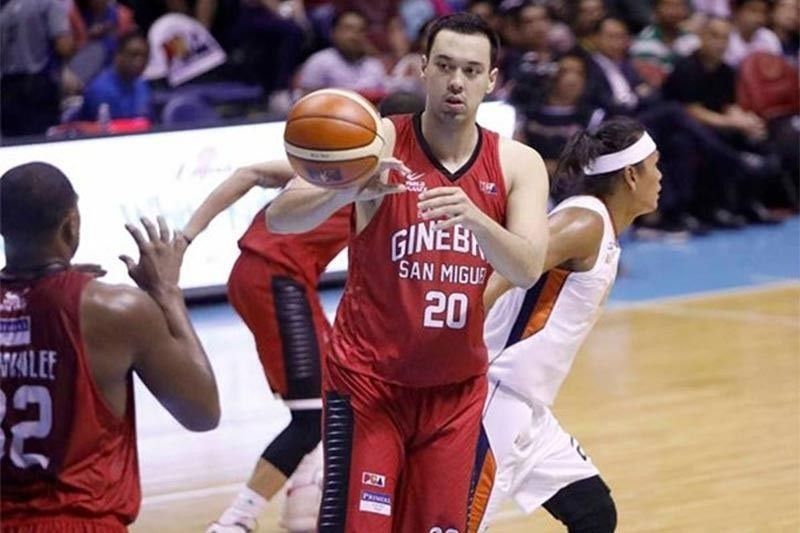 Will Greg require clearance to play abroad?
MANILA, Philippines — Barangay Ginebra owns the signing rights to Greg Slaughter by virtue of tendering an offer sheet within the prescribed 30-day period after his contract expired last Jan. 31 but if the 7-foot center, now represented by the Serbian agency BeoBasket, opts to play in a foreign league, he may be required to secure clearance from the PBA through the SBP.
Under FIBA rules, "a letter of clearance must be obtained from the national member federation where a player was last licensed before he can be licensed by another member federation." Although the PBA is not under the SBP's jurisdiction as a pro league, it is represented in the SBP Board of Trustees and SBP president Al Panlilio is a member of the PBA Board of Governors. The relationship is similar to the NBA and FIBA where even as the NBA is not under FIBA's jurisdiction, the NBA is represented in the FIBA Central Board through deputy commissioner Mark Tatum.
In the PBA, import players are required to show a letter of clearance from their previous league before signing up. They're also required to show a letter of clearance from the PBA when they move to a league in another country. Last year, import Jameel McKay was restrained from playing in the PBA because he had no FIBA clearance from his previous team.
PBA chairman Ricky Vargas said the other day it is a "universal rule" that prior clearance must be given by a league for a player to transfer to a league in another country. The clearance is to assure that the player has no pending obligations to a previous team or league and vice versa. "Universal ethics will require this clearance," said Vargas. "If a player from the PBA plans to sign a contract in the EuroLeague or NBA G-League or even the NBA, there should be prior clearance by the PBA through the SBP. My understanding is it's a universal rule."
While Ginebra tendered an offer sheet to Slaughter, there was no agreement on a contract renewal. Still, Ginebra retained his signing rights even if Slaughter is now training in the US. If there is no meeting of the minds and Slaughter receives an offer from another team in the PBA, Ginebra will enjoy the right of first refusal. Under a new PBA rule, a player with no live contract will become an unrestricted free agent after his seventh year with an effective start from the 2014 draft. Slaughter was the PBA's first overall draft pick in 2013 and will not fall under the new rule.
If Slaughter receives an offer to play for a team in another country, the question is whether he will be given a letter of clearance by the PBA through the SBP since Ginebra owns his signing rights but only in the PBA. Will Ginebra enjoy the right of first refusal over a team in a foreign country? It's a grey area that must be reviewed.
PBA commissioner Willie Marcial said for an agent to represent a player in negotiating a PBA contract, he or she must be accredited by the PBA. That means if BeoBasket will represent Slaughter in negotiating a contract renewal with Ginebra, it must be registered as an accredited PBA agent. An agent pays P10,000 a year to be licensed by the PBA. If a player's agent is not accredited by the PBA, the team will negotiate directly with the player.