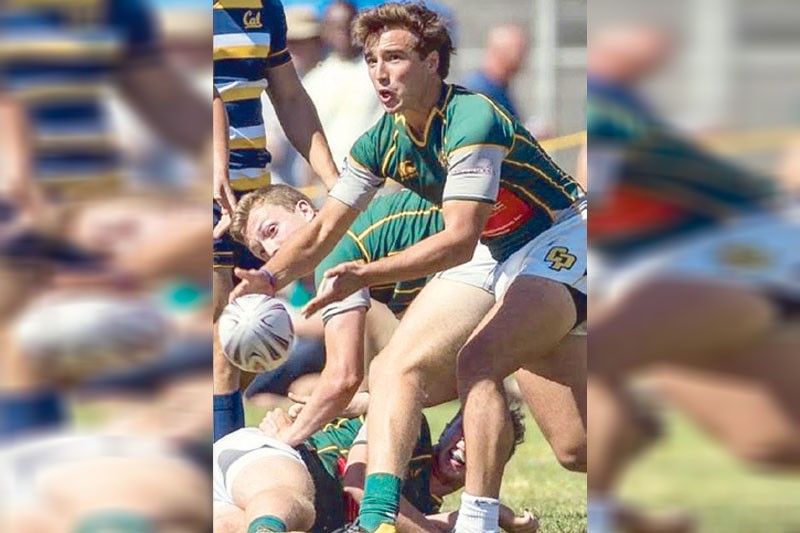 Patrick Del Gallego Madden
Alex Ho
Fil-Am set for pro rugby debut
MANILA, Philippines — California Polytechnic State University at San Luis Obispo senior Patrick Del Gallego Madden, a Fil-Am with Manila roots, was recently picked in the first round of the Major League Rugby (MLR) draft and will make his pro debut with the San Diego Legion when the next season begins in January.
Madden, 21, was a finalist for the Rudy Scholz award, the highest individual honor in US collegiate rugby, as a junior in the last campaign that was shortened by the pandemic. With credits from summer classes the past years, the academic A student plans to graduate in October with a degree focusing on Tech Sales then plunge full-time into pro rugby.
Madden's mother Pamela Rebullida Del Gallego, 49, was born in Manila to San Beda graduate Jules Del Gallego, author of the book "The Brothers Luna: Madmen or Geniuses," and Eileen Rebullida. She was 13 when the Del Gallego family migrated to the US. Madden's father Joseph, 48, is Vice President and Director of Leasing at Sudberry Properties, a San Diego real estate developer. Madden is the youngest of three children and has visited Manila only once when he was two in 2001.
MLR launched its inaugural season in 2018. Last month, MLR held its first-ever collegiate draft with 12 players selected in the first round and another 12 in the second. The versatile 5-11, 195-pound Madden has seen action as a fly-half, inside center, fullback and scrum half. Cal Poly coach James Tesoriero said, "From the time Pat entered our program, we felt he was a future pro rugby player and being drafted is a big step towards him achieving this status…San Diego drafted a winner, leader and quality rugby player." Writer Ken Allard said "Madden's abilities extend beyond the scorecard…his penchant for altering field position with pinpoint kicks and his inspiring leadership are highly sought-after traits and certainly ones that will extend to the next level in MLR."
Madden said he follows the Philippine Volcanoes and didn't rule out the possibility of someday suiting up for the national team. "I've actually had friends who played for the Volcanoes, Derrick and Kevin Broussard," he said. "The team is definitely a rising force in Southeast Asia. It's amazing to see the country donating more time and resources into their program. The idea of playing for the Volcanoes is interesting and it has always been something I've considered."
Madden said from watching the Volcanoes games on the internet, he observed the game speed is "a bit faster" in the US. "Playing anywhere at a high level comes with different physical and mental obstacles," he said. "The style of play changes drastically from place to place. I've had to make adjustments while playing in Australia and New Zealand. I've also played in Canada and Dubai."
Although Madden represented the US at the World U20 Qualifiers in 2018, he said it wouldn't be a hindrance playing for the Philippines in the future. "According to the World Rugby guidelines, I could still play for the Philippines at a national level if the opportunity presents itself," he said. "I would have to acquire a Philippine passport and documentation as well as live in the country for a certain number of years."
Madden, who started playing rugby at the age of five, said he's proud of his Filipino heritage. "My biggest Filipino value would be my commitment to family," he said. "I've traveled the world playing rugby and everywhere I go, I can find some sort of bloodline. I've been lucky enough to grow up with a lot of support but at the same time, keeping me grounded. There's nothing more important to me than my family. My favorite Filipino food would have to be my Grandma's and Mom's chicken adobo and you can never go wrong with lumpia. I've been exposed to multiple Filipino activities while growing up. One that comes to mind is when my sister and I used to dance the tinikling in cultural fairs in our elementary school. I'm most definitely looking to come back to the Philippines as soon as possible, whether it's for rugby or not. I'm hoping to plan a trip soon."