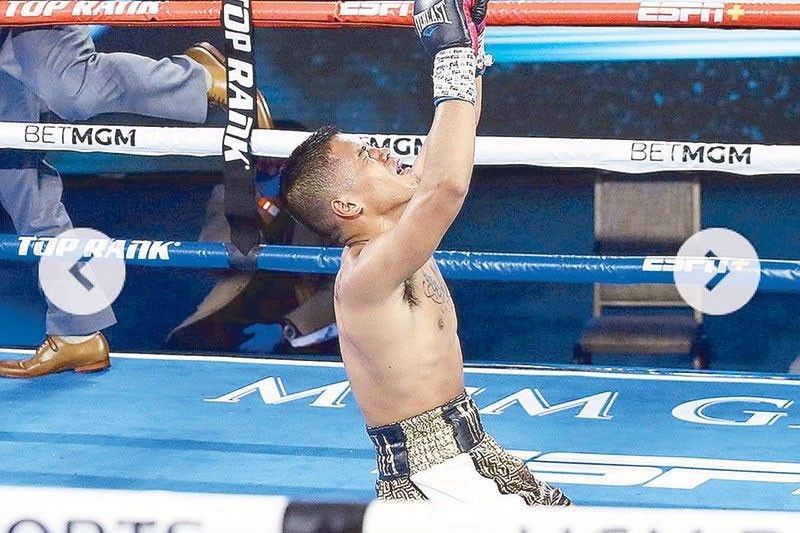 SPORTING CHANCE
-
Joaquin M. Henson
(The Philippine Star) - June 19, 2020 - 12:00am
The betting line for Filipino boxer Mike Plania to beat WBO No. 1 bantamweight contender Joshua Greer Jr. was on a downward trend as the fight got closer but there was more than enough cushion to cash in when the bell rang to signal the start of the action at the MGM Grand Conference Center in Las Vegas last Tuesday night.
Plania was initially installed a +500 underdog about two weeks before the bout but the odds dipped to +375 a week later then +210 and +200 on the day of the fight. A line of +200 meant a wager of $100 would earn $200. MP Promotions head Sean Gibbons and WBO bantamweight champion Johnriel Casimero, watching the hostilities on TV in a Las Vegas suburb, pooled a bet of $1,500. The first bet was for $500 at +210 and the second for $1,000 at +200.
Plania got the job done, flooring Greer once in the first and once in the sixth to win by a majority 10-round decision. Gibbons and Casimero pocketed a combined $3,050 for putting their trust on Plania. A Filipino who placed an early $5,000 bet on Plania at +500 took home $25,000 in a windfall.
If Plania was underrated, Greer was totally overrated. The Chicago favorite, known as "Don't Blink," checked in with a 15-fight win streak and the quality of his opposition was rated at a much higher level than Plania's. The knock on Greer was his porous defense and it showed against Plania. In the opening round, Plania landed a sweeping left hook that caught Greer on the chin and dropped him. It looked like Plania swung from left field, didn't crack a homerun but got the base hit. A fighter with a better defensive sense could've anticipated the swing because it came long and would've leaned away. In the sixth, Plania took another wide swipe with a left hook and landed once more, dumping Greer on the canvas a second time.
Behind on points, Greer abandoned his outside tactics and crowded Plania in the seventh round. The adjustment worked as Plania lost the space he needed to swing. Greer began to connect with body and head shots. Plania slowed down, allowing Greer to take the seventh and eight rounds in the three judges' scorecards. But in the ninth, Plania made a key adjustment, went side-to-side, popped from outside and stayed away from the charging Greer. It wasn't enough to convince two of the three judges to give the round to Plania but in the 10th, Greer was nowhere close to mounting a final assault.
Judge Patricia Morse Jarman scored it 97-91 and judge Tim Cheatham 96-92, both for Plania, but judge Dave Moretti had it 94-94. Moretti awarded Greer six of the 10 rounds, including the last four. Jarman gave Plania seven rounds and Cheatham, six. All three scored the first, second, third and sixth rounds for Plania. In the Compubox stats, Plania had more punches thrown, 451-426, more punches landed, 119-96 and more power shots connected, 99-77. Greer had the edge in body blows, 34-27.
"I'll try to bring Mike home to rest up and celebrate," said Plania's manager J. C. Manangquil. "We got the notice to fight Greer last May 25. While Mike was training in Miami with coach Moro (Fernandez) since early this year, he really wasn't fight-ready. It's not like training for a fight with eight to nine weeks notice. The catchweight was 120 pounds and Mike had a hard time making it. His focus before the fight was just to make 120. Mike will definitely stay in the superbantamweight division where the limit is 122." Plania tipped in at 119.5 pounds for the bout while Greer weighed 120 on the dot.
Manangquil said Plania was underestimated. "I don't think too many know that Mike was an impressive amateur with ABAP," he said. "He has incredible ring IQ and presence of mind. I got worried about his weight drain when Greer started to move in but Mike knew what to do and adjusted. It wasn't a perfect fight and he still needs to improve. But he showed his handspeed, how he set up his left hook na sobrang bilis. Greer never saw that left hook coming when he went down twice."