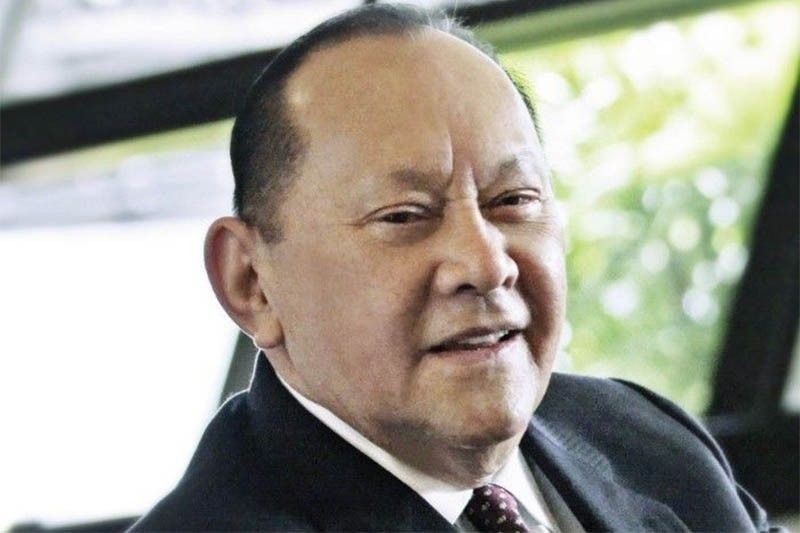 Eduardo (Danding) Cojuangco Jr
San Miguel Corp.
SPORTING CHANCE
-
Joaquin M. Henson
(The Philippine Star) - June 18, 2020 - 12:00am
I'll never forget meeting San Miguel Corp. chairman Eduardo (Danding) Cojuangco Jr. for the first time. It was in Calcutta in 1981 during the FIBA Asia Cup Championships. Boss Danding, as he was fondly called, came across a column I wrote about the use of naturalized players by several countries in FIBA competitions and invited me to a meeting through his sports assistant Dr. Fernando Carrascoso. The meeting was set at the Century Park Hotel but when I arrived, Dr. Carrascoso said Boss Danding had already flown to Calcutta and asked to meet there instead.
I couldn't believe it at first but Dr. Carrascoso said my plane ticket was waiting at Boss Danding's office in UCPB Makati with his secretary Alice Alvarez Bacani. I knew Alice from when I studied at AIM and I found out later it was Alice who referred me to Dr. Carrascoso when Boss Danding asked to meet after reading my column. I took a leave from work on Friday, flew to Calcutta and returned home Sunday.
Dr. Carrascoso met me at the airport in the afternoon in Calcutta, checked me in at the Oberoi Hotel and brought me to Boss Danding's suite. When I entered his suite, Boss Danding was with his family and coach Ron Jacobs taking merienda. I remember Boss Danding making me feel at home even if I had never met him before. "Come in, Quinits," he said. "Join us for merienda." I wondered how he knew my nickname.
And so began a long relationship with Boss Danding. In 1982, he sent me to Geneva to attend a meeting with FIBA secretary-general Borislav Stankovic, FIBA president Lito Puyat and FIBA Asia officials. It was during FIBA's 50th anniversary celebration. That same year, Boss Danding asked me to act as emcee for the opening program of the Asian Youth Championships at the Araneta Coliseum. I'll never forget speaking in front of over 25,000 fans. I took care of publicity for the event which was a rousing success capped by the Philippines' victory. In 1983, Boss Danding called on me to conceptualize a sports activity for Region III focusing on boxing and basketball. After a week, I presented the Sama-Sama Sa Paglalaro program to the six Region III Governors – Estelito Mendoza of Pampanga, Nacing Santiago of Bulacan, Efren Pascual of Bataan, Homobono Sawit of Tarlac, Vic Magsaysay of Zambales and Eduardo Joson of Nueva Ecija. It was an unprecedented success.
In 1985, Boss Danding invited me to head the Eduardo Cojuangco Foundation (ECF) in Tarlac. I resigned from the bank where I worked for 10 years and broke ground with ECF, starting a microfinance operation that provided access to credit to small entrepreneurs without collateral. The United Nations learned about ECF's microfinance system and found its self-sustaining character a model for world-wide replication. I was invited to lecture on the system before the UN in Geneva in 1997 and a forum on microfinance in Lyon, France, the next year. Because thousands of small businessmen benefited from the system that was an alternative to dealing with loan sharks, ECF expanded its portfolio to neighboring provinces. It was through Boss Danding that ECF was able to provide Masteral and Doctorate scholarships to over 2,000 public school teachers in Tarlac with La Salle diplomas under Project Free, launch a job-opportunity platform for out-of-school youth and unemployed under Project Hope, start a drug store with socialized pricing and introduce several other social amelioration programs.
Through 30 years of working for Boss Danding until my retirement in 2016, I continued to pursue my love for sports as a journalist and broadcaster. I shared Boss Danding's passion and love for sports. Beyond the work in Tarlac, sports was our common bond. From that afternoon when I met Boss Danding in 1981, my life was never the same. I've never met a man so dedicated to doing good for the less privileged, so loving of his country and so devoted to making a difference in people's lives.
NorthPort coach Pido Jarencio, who played on Boss Danding's 1986 FIBA Asia Cup title team, said he owes his career to him. "Since 1986, I never failed to send him a Christmas card, my small way of saying thanks and that I'll never forget what he did for me," said Jarencio. "Even when he was in the US, I still sent him a Christmas card. Super-alaga ni Boss Danding mga players niya." Another 1986 FIBA Asia championship player Allan Caidic said, "I was really saddened by the passing of our beloved Boss Danding … he was like a father to us and I really owe him a lot."
There are thousands of Boss Danding stories like Pido's, Allan's and mine. It's a testament of how he has touched the lives of so many. Boss Danding will be missed but will always live in the hearts of millions.