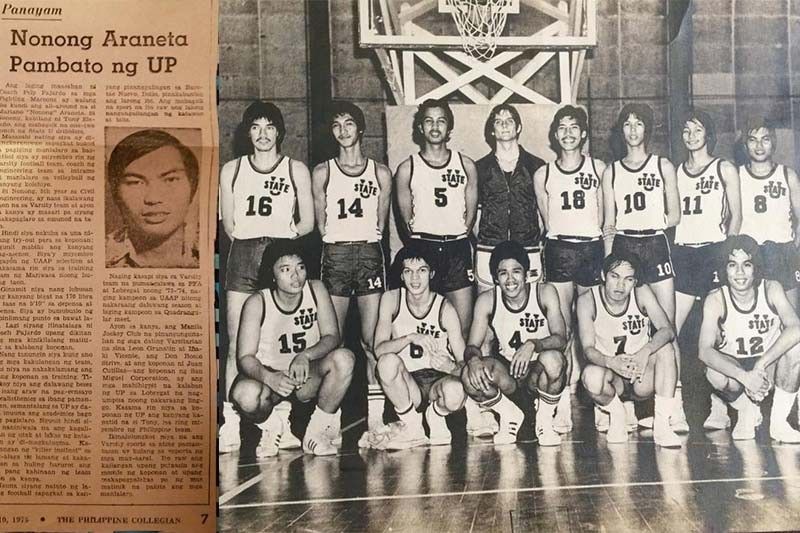 Mariano "Nonong" Araneta (jersey #8) with the UP Fighting Maroons in the 1970s
Released
Philippine football chief recalls days with UP Maroons
MANILA, Philippines — Despite being known more for his football prowess, Mariano "Nonong" Araneta was also a force to be reckoned with in the hardcourt.
Philippine Football Federation chief Araneta, who played for the UP Fighting Maroons in the 1970s, recalled his days in a basketball uniform.
"I was a point guard and because of my training in football, I was playing defense in basketball. Anybody who was a shooter, I was assigned to guard because my reflexes are better," Araneta said during Tiebreaker Vods' Crossover Podcast on Tuesday.
"In the UAAP, I was having a lot of interceptions because I can run backwards... our hands as football players are [also faster]... As long as you're not in foul trouble, babad," he said.
Araneta played for the Maroons for three years while studying Engineering in the University.
Apart from playing for the basketball team, Araneta helped steer the UP football team to three titles during his stay in the University.
After his days in college, Araneta was supposed to play for amateur league Manila Industrial and Commercial Athletic Association (MICAA).
"I was taken by my coach in UP, si Fely Fajardo... he told me I want you to be part of the farm team of Mariwasa, like a development team. Because once you graduate from UP, we want to get you for Mariwasa," he said.
But Araneta's basketball career would eventually end there as the MICAA turned into the PBA in 1975.
Araneta shifted his attention back to football once he graduated from UP.
He would then play for the Philippine national fotball team untl 1985 before going into coaching and administrative duties of the Philippine booters.
Araneta is on his third and last term as PFF president.