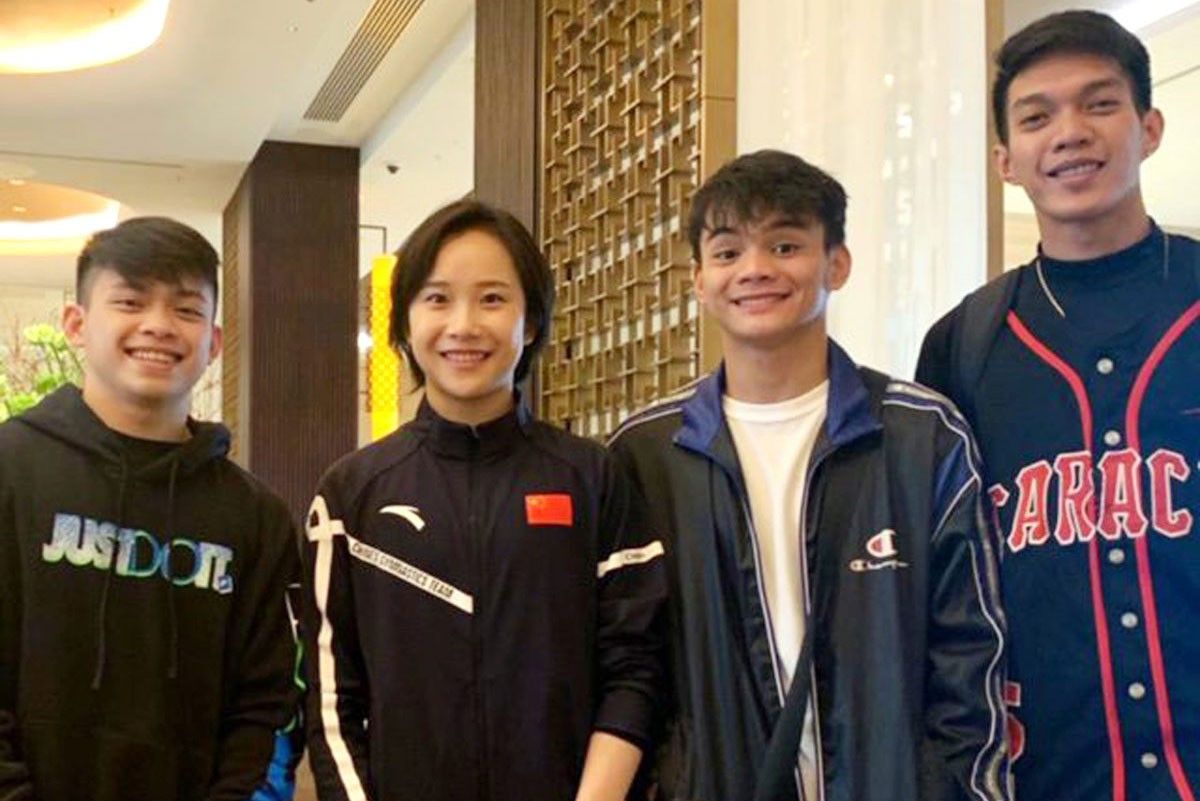 Caloy Yulo (left) with Chinese gymnast Fan Yilin, Justine Ace de Leon and Jag Timbang in Baku, Azerbaijan.
MANILA, Philippines — Olympic gymnastics qualifier Caloy Yulo is back training at full capacity in Tokyo with coach Munehiro Kugimiya after recovering from a strained right wrist sustained in practice and a cut on his right palm while competing in parallel bars at the World Cup in Baku, Azerbaijan, last month.
"Since there's no school, Caloy is in the gym training with coach Mune from 10 a.m. to 7 p.m. every day, breaking only for lunch," said Gymnastics Association of the Philippines president Cynthia Carrion yesterday. "He's totally focused. He asked if for the meantime, he wouldn't give interviews. He hardly communicates with anyone outside of his training team."
Carrion said if the Olympics went on as scheduled in July, Yulo would've been a cinch to capture the gold in the floor event. "We went to Baku to scout Caloy's opposition," she said. "Caloy purposely didn't compete in floor. Instead, he joined the vault and parallel bars. He strained his right wrist in practice and I suggested that maybe, he should just sit out the competition. But Caloy wanted to test himself. He couldn't put too much pressure on his right wrist and since he was compensating, he wasn't 100 percent, leading to the cut on his right palm while on the parallel bars."
Carrion said Yulo, 20, participated in Baku with teammates Justine Ace de Leon, 18, and Jag Timbang, 21. "We wanted Ace and Jag to accompany Caloy so they can get experience in the World Cup," she said. "We're preparing Ace and Jag for the Southeast Asian Games in Vietnam next year. Ace is determined to be as good as Caloy and we're hoping he'll reach his peak in Vietnam. Our goal in the SEA Games is to compete with a solid team. We want to be up there in the standings. For the Olympics, our goal is to win the gold."
Carrion said she's disappointed that the Tokyo Games were postponed but she understands the delay was for the good of everyone. "What can we do?" she continued. "It's beyond our control. The postponement was for the safety and health of the athletes, officials, fans and everyone involved in the Olympics. We saw the opposition in Baku and we concluded that if the Games were held this July, Caloy would win the gold medal. With the postponement, we don't know what the opposition will be like a year from now. But for sure, Caloy will be ready."
In Baku, the competition was held only in the qualification stage as the organizers cancelled the finals because of the coronavirus outbreak. In the floor qualifications, Timbang ranked No. 28 and De Leon No. 32 of 38 competitors. In vault, Yulo was No. 14 and Timbang No. 21 among 25. In parallel bars, Yulo was No. 26 of 31. "Our mission was primarily to expose Ace and Jag and scout Caloy's opposition," said Carrion. "So it was mission accomplished." She said the last two days of the event were cancelled but organizers didn't refund participants for pre-paid hotel accommodations and flight rebooks weren't also shouldered by the hosts.