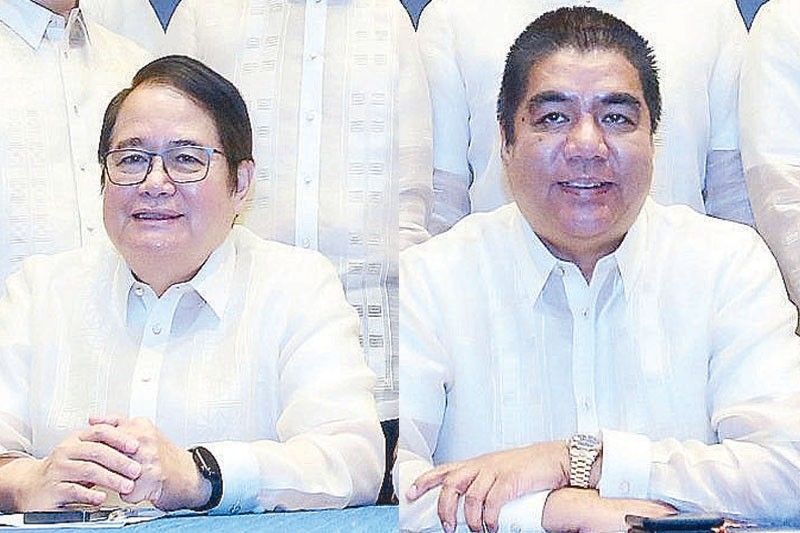 Ricky Vargas and Willie Marcial
Pro loop forecasts exciting future
MANILA, Philippines — PBA chairman Ricky Vargas said the other day the league is in the pink of health and despite a four-percent decline in gate receipts, there were other compensating revenue sources that boosted total income to P485.4 million or an increase of 6.6 percent last year. Vargas said the PBA's revenue budget for 2020 is P645 million or a 33-percent improvement from the actual 2019 figure.
PBA commissioner Willie Marcial said even as live attendance took a dip, viewership remained high through several alternative platforms and reported a spike of 20 to 25 percent in social media audience. "We brought down ticket prices by 45 percent in a promo during the eliminations but some fans still preferred to watch on their phones, TV or tablets rather than go through heavy traffic to the venue," he said.
TV5/Cignal president and CEO Robert Galang said it's a totally new market behavior that the PBA now faces. "It's a choice of what device to use in watching the PBA," he said. "You can follow the games on Facebook, on PBA's website, on Cignal's PBA Rush where the experience is captured on HD."
Vargas said the changing times are reflected in the livestream numbers registered during the Governors Cup last season. In Game 1 of the finals between Ginebra and Meralco, 3.2 million viewers caught the action on livestream. In Game 2, it went up to 3.5 million. In Game 5, 2.4 million watched on livestream and 17,378 showed up at the MOA Arena. In the triple overtime do-or-die quarterfinal playoff between NLEX and NorthPort, viewership of 1.5 million was registered.
"No doubt, the PBA is being watched," said Vargas. "And 2020 promises to be an exciting season." Vargas said sponsorship income is projected to rise to P142 million from an actual of P51.2 million last year. Increases are also expected from TV rights, international rights, special projects, share from PBA Properties and the PBA D-League.
"We're anticipating a turnaround," continued Vargas. "And even if it doesn't come from gate receipts, there will be gains in other areas. We're looking at bringing the PBA further to our region. Right now, we're being viewed in China. We're in talks to hold two games abroad."
PBA vice chairman Bobby Rosales said an innovation in the coming 45th season is the 3x3 tournament that's aligned with SBP's goal of improving the country's FIBA ranking in the event. Aside from the participation of the 12 PBA teams, the 3x3 competition will welcome entries from Mighty Bond and Dunkin' Donuts. Games will be played during a regular PBA doubleheader in Metro Manila. Each team will enlist six players with four to play and up to two Fil-foreigners. Recruitment is open to players from 18 with no age limit, whether pro or amateur. The schedule will list 42 elimination and 14 playoff games. The semifinals and finals will be best-of-three affairs. FIBA rules will apply.
In the Philippine Cup opening on March 8, there will be three provincial contests – Ginebra-Blackwater in Balanga on March 14, San Miguel Beer-NLEX in Dipolog on April 25 and TNT-Magnolia in Cagayan de Oro on May 2.
With June Mar Fajardo, Greg Slaughter and Raymond Almazan sitting out the Philippine Cup, the road to the top is suddenly wide open. Teams have retooled and regrouped, making for a unpredictable conference.