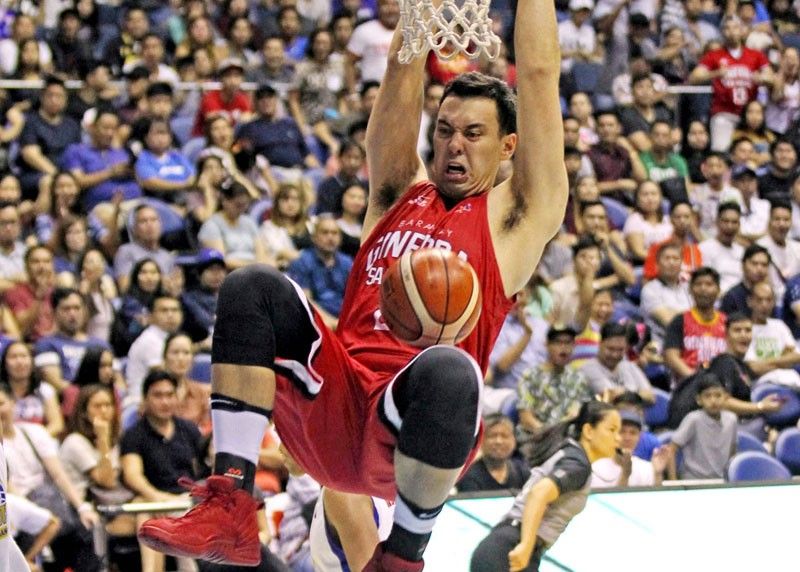 MANILA, Philippines — If Barangay Ginebra chooses not to make an offer to renew Greg Slaughter's contract within 30 calendar days after it expired last Jan. 31, the 7-foot center becomes an automatic unrestricted free agent in the PBA.
That's the rule, according to PBA legal counsel Melvin Mendoza. "There is a PBA rule which requires a team to give an offer to a player within 30 days from contract expiration in order to have rights over that player," said Mendoza. "Otherwise, the player will be considered a free agent. In other words, if no offer is given, the team is considered to be no longer interested in retaining the player."
Making an offer may take the form of sending an e-mail or delivering the offer sheet to his last known address even if it isn't formally received by the player. Mendoza said even an e-mail will be sufficient basis to establish making an offer. The PBA must also be given a copy of the offer sheet.
PBA deputy commissioner Eric Castro said an added rule is the mother team must make at least a one-year offer for the right to match. "If no offer is made within 30 days, the player is a free agent," he reiterated. "If there's a valid offer of at least one year, the team has the right to match forever."
The situation is similar to former Ginebra player Chris Ellis' case. Ellis was traded to Blackwater in 2017 but never played for the Elite. A source said since Blackwater never made an offer to sign Ellis after the trade, his rights were forfeited. The rule is upon expiration of a contract, an offer to renew must be made equivalent to at least the player's last salary for the team to retain his rights.
Slaughter, 31, confirmed that his Ginebra contract expired last Jan. 31. His last playing day was on Jan. 17 when Ginebra clinched the PBA Governors Cup title in Game 5 of the finals against Meralco at the MOA Arena. He also noted that "I never got any verbal or written offer" from Ginebra.
In his season-ending exit interview with coach Tim Cone after winning the championship, Slaughter intimated that he planned to take a break from the game. He made up his mind to go on leave a few days after San Miguel Beer's June Mar Fajardo fractured his right tibia during a practice. Slaughter is now vacationing in the US with no fixed return date.
Reaching out to The STAR, Slaughter said recently "this was most definitely not an easy decision for me but I know that this break will not only make me a better basketball player but also a better person." He added that "I worry more about her (girlfriend Schinina Juban) worrying about all this than the actual things being said." Slaughter has been unfairly pilloried in social media for taking a step back from the game and falsely accused of making outlandish demands, including a no-trade clause, to renew his Ginebra contract. He quashed the rumors by unconditionally stating in his Twitter account that he never made any demands because there was no offer to renew his contract in the first place and he isn't aware of any trade involving himself.
Slaughter was rumored to be on the way to NorthPort in a trade for Christian Standhardinger but it never materialized. Neither Ginebra nor NorthPort confirmed the deal was in the offing. For Ginebra to even consider trading Slaughter, it must make an offer to retain his rights within 30 days from Jan. 31. Failing to make an offer will make Slaughter an unrestricted free agent.
Slaughter's recent message that he intends to return as "a better basketball player" means his PBA career is far from over. Slaughter was the PBA's first overall draft pick in 2013 and has played six seasons, winning four titles, capturing Rookie of the Year honors and claiming the Best Player of the Conference award in the 2017 Governors Cup.