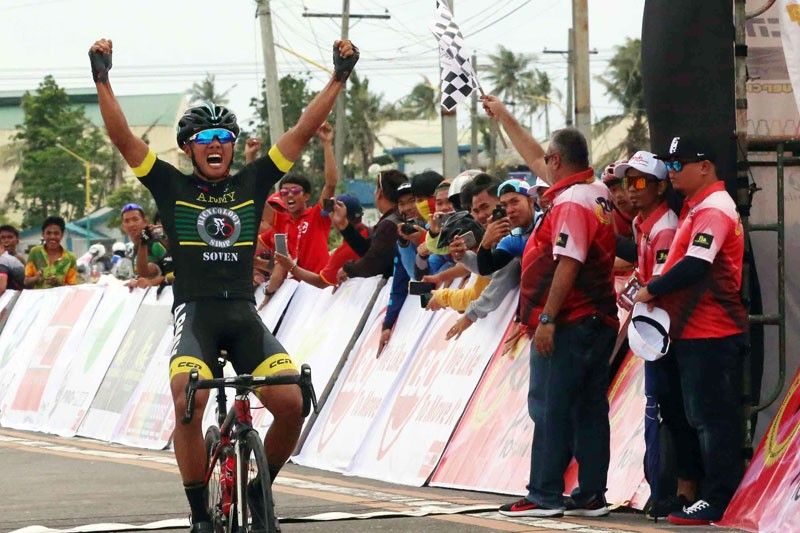 Bicycology- Army rider Mark Julius Bordeos raises his hands triumphantly at the finish line in Sorsogon City.
ERNIE PEÑAREDONDO
Armyman tops sprint finish in Ronda kickoff
Joey Villar
(The Philippine Star) - February 24, 2020 - 12:00am
SORSOGON , Philippines — In five years with LBC Ronda Pilipinas, Mark Julius Bordeos has been racing silently under the radar and patiently trying to learn the ropes with fervent hopes of hitting paydirt someday.
It could be this year.
Displaying his sprinting prowess, Bordeos of Bicycology-Army ruled Stage One yesterday and put himself in title conversation in the LBC Ronda Pilipinas 10th anniversary race.
Bordeos, a 24-year-old army private, edged Jerry Aquino, Jr. of Scratch It, Rustom Lim of 7Eleven Cliqq-Air21 by Roadbike Philippines and George Oconer of Standard Insurance-Navy in a wet and wild finish, taking lap honor in the 129.5-kilometer stage flagged off at the bay walk and ended in front of the city hall here.
All four riders clocked three hours, six minutes and seven seconds in the kickoff of the 10-stage race presented by LBC and backed by the Manny V. Pangilinan Sports Foundation, staking P1 million to the individual champion.
It's only the Laoac, Pangasinan native's second lap triumph in all his years with Ronda with the first coming two years ago in Iloilo.
This one could be the launch pad of something big for Borneos.
"I hope this could start something big for me. I'm waiting for my time to come, and hopefully this is the year," said Bordeos in Filipino.
Bordeos, however, admitted it is still a long way to go.
"It will be tough from here on because I know the favorites will make their move anytime soon. But I will do my best to hang on to it for as long as I can," he said.
Bordeos will wear the LBC red jersey, which is symbolic of the tour leadership, in today's 150.6km Sorsogon-Legazpi Stage Two.
7Eleven's Mark Galedo, the 2012 winner back from a four-year hiatus, and Standard's Jan Paul Morales, the 2016 and 2017 titlist, jumped the gun and took the King of the Mountain and sprint intermediate races, respectively.
But with no one helping, both Galedo and Morales slowed down later and settled with a Top 10 finish, the former ending up at solo fifth in 3:06:10 and the latter in a four-man group at sixth in 3:06:19.
The talented and youthful duo of Daniel Ven Carino and Jonel Carcueva of Go for Gold checked in at 12th in 3:07:01 while teammate Ismael Grospe Jr. was at 15th in 3:07:20.
Standard's Ronald Oranza, the 2018 titleholder, was at 17th in 3:07:28 while Reimon Lapaza of Celeste Cycles, the 2014 Ronda king, was at 20th in 3:07:32.
Santy Barnachea of Scratch It, who won it in 2011 and 2015, ended up at 30th in 3:07:53 in this event supported by Versa, 8A Performance, Print2Go, Petron, Green Planet, Bike Xtreme, Standard Insurance, Spyder, CCN, Lightwater, Prolite, Guerciotti, Black Mamba, Boy Kanin, Vitamin Boost, NLEX-SCTEX, Maynilad, 3Q Sports Event Management Inc., LBC Foundation and PhilCycling.