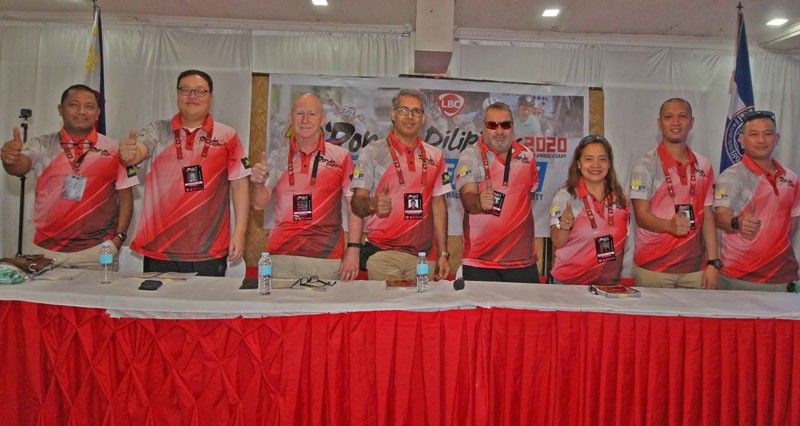 Race commissaires (from left) Carlos Gredona, Sung Woong Park, Michael Robb, Nasseri Khorram Majid and Jaideep Chulani join project director Bernadeth Guerrero, race director Jhon David Arcilla and technical director Led Alwyn Saulo during the final press conference in Sorsogon. Ernie Peñaredondo
Star-studded LBC Ronda fires off
Joey Villar
(The Philippine Star) - February 23, 2020 - 12:00am
SORSOGON, Philippines — A battle royal among the country's top riders will take place in Bicolandia as the LBC Ronda Pilipinas 10th anniversary race comes off the wraps today at the popular baywalk here.
All but two of the former Ronda champions headed by two-time winners Santy Barnachea of Scratch It and Jan Paul Morales of Standard Insurance-Navy are joining this year's race, adding excitement to the 10-stage odyssey on wheels.
"The LBC Ronda Pilipinas 10th anniversary race is a celebration of the Filipino spirit and proof that we could rise above all challenges," said Ronda Pilipinas chairman Moe Chulani yesterday at the Fernando's Hotel.
Barnachea, 43, will try to prove that he still has what it takes to compete and possibly win it all while Morales, 34, is out to reclaim glory after reigning supreme in 2016 and 2017.
"We will know on race day how it will go but I can assure you I will give it everything to make my sponsor proud," said Barnachea, winner in 2011 and 2015.
Mark Galedo of 7Eleven Cliqq-Air21 by Roadbike Philippines, the 2012 champion, Reimon Lapaza of Celeste Cycles PH-Devel Project Pro Team, the 2014 winner, are also making a much-awaited comeback and should be in the thick of things.
Same with Ronald Oranza of Standard Insurance-Navy, who is itching the reclaim the crown he won in 2018.
They're all eyeing no less than the top purse worth P1 million courtesy of LBC and the Manny V. Pangilinan Sports Foundation.
"I'm just confident of my chances this year and we have a strong team," said the 27-year-old Oranza.
Others expected to make a run for the title are Le Tour champion El Joshua Carino, Junrey Navarra and George Oconer of Standard Insurance, Marcelo Felipe, the best Filipino finisher in last year's staging, and 7Eleven teammate Rustom Lopez, Ronnel Hualda, Daniel Ven Carino, Ismael Grospe Jr. and Jonel Carcueva of Go for Gold, Cris Joven, Marvin Tapic and Dominic Perez of Bicycology-Army, and Michael Angelo Ochoa and Warren Bordeos of Bike Xtreme.
Other teams seeing action are Ilocos Sur, Tarlac/Central Luzon, South Luzon/Batangas and Nueva Ecija.
Stage 1 of this race supported by Versa, 8A Performance, Print2Go, Petron, Green Planet, Bike Xtreme, Standard Insurance, Spyder, CCN, Lightwater, Prolite, Guerciotti, Black Mamba, Boy Kanin, Vitamin Boost, NLEX-SCTEX, Maynilad, 3Q Sports Event Management Inc., LBC Foundation and PhilCycling is a 129.5 km lap in and out of Sorsogon.
Stage 6, meanwhile, will now be a Tarlac-to-Tarlac lap on Feb. 29 and Stage 7 Tarlac to Palayan City, Nueva Ecija on March 1 instead of Lingayen-Lingayen and Lingayen-Palayan.
The rest – 137 km Sorsogon-Sorsogon Stage 1, 163 km Sorsogon-Legazpi Stage 2 on Feb. 24, 126.9 km Legazpi-Naga Stage 3 on Feb. 25, 212.5 km Daet-Lucena Stage 4 on Feb. 26, 155.4 km Lucena-Antipolo Stage Five on Feb. 27, 177.1 km Nueva Ecija-Baguio Stage 8 on March 2, 176.4 km Pugo, La Union-Vigan Stage 9 on March 3 and Vigan Stage 10 on March 4.