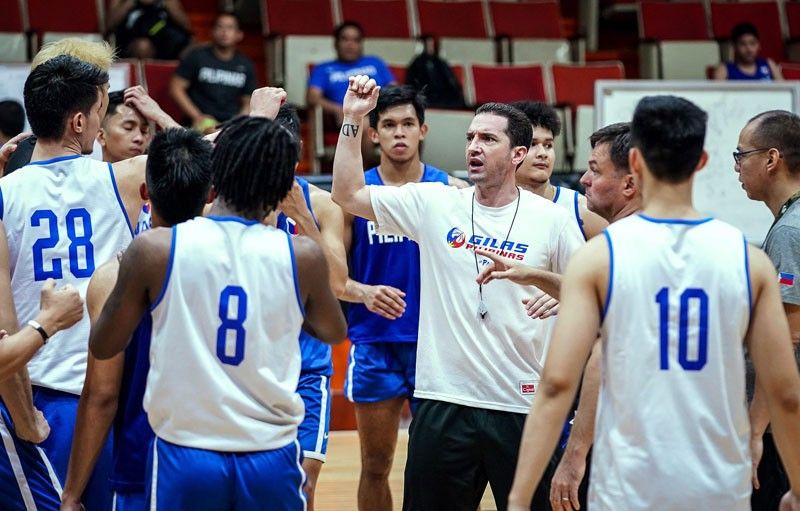 Coach Mark Dickel gathers the Gilas pool members in a huddle in their training at the Meralco Gym.
Gilas-Indon match proceeding Sunday
Olmin Leyba
(The Philippine Star) - February 19, 2020 - 12:00am
MANILA, Philippines — With International Basketball Federation declaring Sunday's FIBA Asia Cup Qualifiers match against host Indonesia a go, Gilas Pilipinas can now prepare for the Indons without a cloud of uncertainty as to whether they'll see action or not in the first window.
Gilas coach Mark Dickel, whose charges continued to build up despite reports on the Indonesians' request for postponement as precaution against the coronavirus disease 2019 (COVID-19), maintained that their Rajko Toroman-coached opponents can pose a real threat.
"(They're) really well-organized. They've got good players. We know they're going to come intense and ready and believe from the start of the game that they can win. So we have to adjust to that from the start and do the same," said Dickel.
"We got to assume that everyone's healthy and they're going to play their best game and we're going to come into the game and beat them," he added.
Gilas clobbered the Indons in the semis of the Southeast Asian Games, 97-70, with an all-pro, all-veteran cast last December. This time, Dickel gives Toroman a new look with his youngster-filled roster.
"We're going to have pretty much different personnel than what they've played with, give or take three or four guys. It's a new team and we've gotta come out and try to play," said Dickel.
"I'd definitely like to get the same results that the SEA Games (team) got, but we've got different personnel. So we're going to have to go about it differently," he added.
Gilas was supposed to open its bid in Group A at home against Thailand at the Smart Araneta Coliseum but the FIBA postponed it, taking into consideration the Philippine government's advisory against organizing activities where big crowds are expected.
The Indonesian Basketball Association, acting on the instruction of the Ministry of Youth and Sports, sought to do the same in hosting South Korea on Thursday and Gilas on Sunday in COVID-19-free Indonesia.
But the FIBA saw no reason to push back the said games to a later date, taking note of the fact that the Indonesian Ministry of Health focuses mainly on travel to and from mainland China with no such travel warning or ban on people travelling to and from South Korea and the Philippines.
"It appears that the games have been singled out and contrary to other countries, the Indonesian government has not taken any action to ban mass gatherings generally. In addition, FIBA is aware that other international events, including sporting events, are planned to take place in Indonesia in the coming weeks," FIBA said in a letter to the IBA dated Feb. 17.