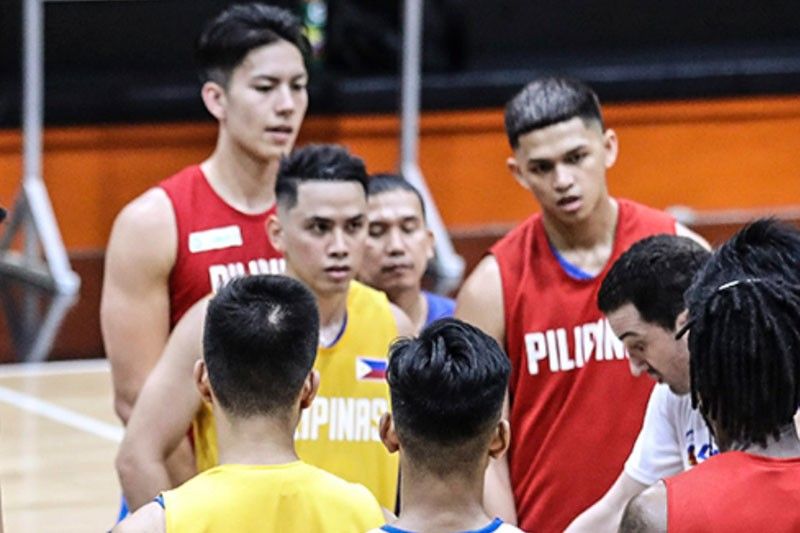 Coach Mark Dickel in a huddle with members of the Gilas Pilipinas pool.
Olmin Leyba
(The Philippine Star) - February 14, 2020 - 12:00am
But event postponement looms
MANILA, Philippines — Gilas Pilipinas is continuing its buildup for the FIBA Asia Cup Qualifiers' opening window on Feb. 20 and 23 even with the possible postponement of the event due to the novel coronavirus scare.
But at press time, Samahang Basketbol ng Pilipinas executive director Sonny Barrios said the event is still on.
"(Possible postponement) is being discussed but there's no decision yet," Barrios told The STAR in reaction to online reports that the Gilas' matches against Thailand and Indonesia have already been called off.
Meanwhile, Gilas Pilipinas coach Mark Dickel expressed confidence the Nationals are on track in their buildup despite some withdrawals and no-shows by some members of the pool.
"We're getting closer but at the same time the games are getting closer too," said Dickel. "It was good to see our defense against some offense. Real positive sign, but we gotta build on that. Hopefully in the next days we take another step forward."
Dickel, the TNT KaTropa's consultant in the PBA, said he isn't losing sleep over the pullout or absence of some players in the 24-man pool named for the matches against Thailand and Indonesia.
Shooter Matthew Wright had "opted out"due to ankle issue, following the action of big men Christian Standhardinger (knee issue), Japeth Aguilar (honeymoon) and Mac Belo (knee rehab). Ray Parks, who is negotiating a new contract with TNT, hasn't attended practice as of Tuesday night as did former La Salle slotman Justin Baltazar.
"That's out of my control right now. I just focus on who shows up. I know our management are trying their hardest to help us get everyone here but the players that we have are giving it their all and that's what I focus on," said Dickel.
"I mean, we'd love to have everyone here but for one reason or another, they chose to do their own thing so we just got to address the issue. We got games coming that we gotta win anyhow," he added.
Gilas has called in reinforcements in frontliner's Justin Chua, Vic Manuel and Abu Tratter as well as small forward Javee Mocon to fill in the void.