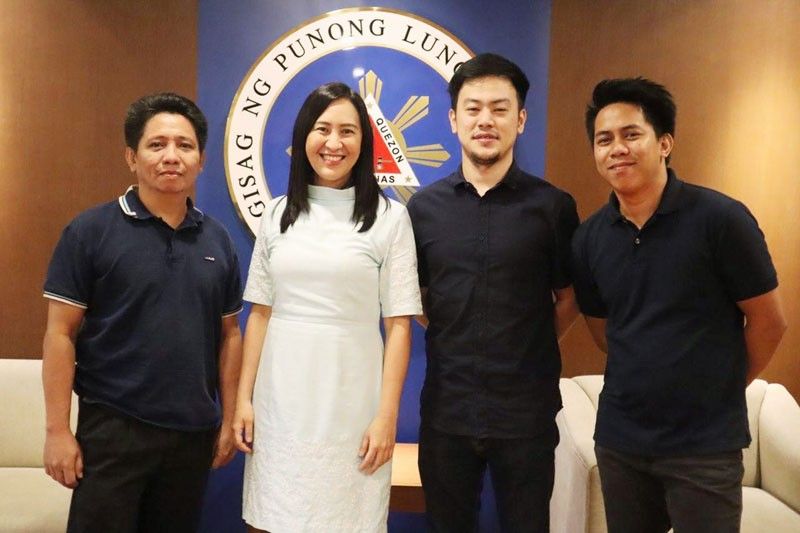 Quezon City Mayor Joy Belmonte (second from left) meets the winners in the inaugural inter-barangay amateur 10-Ball billiards tournament. They are champion Mark Anthony Quinlog (from right), runner-up Christian Sasagawa and third placer Nimrod Cineza.
Quinlog rules Belmonte 10-Ball Open
Edu Punay
(The Philippine Star) - February 13, 2020 - 12:00am
QUEZON CITY, Philippines — A new generation of pool champions emerged at the conclusion of the inaugural Mayor Joy Belmonte Inter-Barangay Amateur 10-Ball Open billiard tournament in Quezon City last Monday.
Three winners from 142 participants from all six districts in the city bagged the top prizes in the week-long event that kicked off last Feb. 3.
Mark Anthony Quinlog, of Barangay Holy Spirit, outclassed the other finalists and emerged as the inaugural champion of the tournament.
He received a cash prize of P100,000 and a trophy while his barangay also received a complete set of billiard table and balls as part of the objective of the event to further promote the sport in the city.
Quinlog said he looks up to Filipino billiard legend Efren "Bata" Reyes.
"He is my idol. For me, he's unparalleled and his moves are like no other. I want to achieve what he has achieved," he told The STAR.
Christian Sasagawa of Barangay Pasong Putik placed second while Nimrod Cineza of Barangay Gulot placed third.
The second placer bagged a cash prize of P50,000 plus trophy while the third placer got P25,000 in cash plus trophy.
Consolation prizes were also given to the other top 32 players during the elimination round.
Belmonte graced the awarding ceremonies held at the Atrium in Quezon City Hall.
"We will continue to support sports and youth development programs like this. We need to develop athletes early on while at the same time keep our youth away from illegal drugs," she stressed.
The event was organized by the Billiards Managers and Players Association of the Philippines (BMPAP) in the hope of discovering new pool champions that would follow the steps of Reyes and Quezon City's own international champion, Dennis Orcullo.
BMPAP president Perry Mariano thanked participants and supporters of the tournament, which he said would hopefully revive the country's interest in the sport.
"Unlike many of the other sports where you need to be well funded, billiards is accessible to the common man. You can grow up in the streets and with talent and much practice excel in this sport, like Dennis and Efren Bata. You don't need to be a rich kid to be a billiards champ," he said.