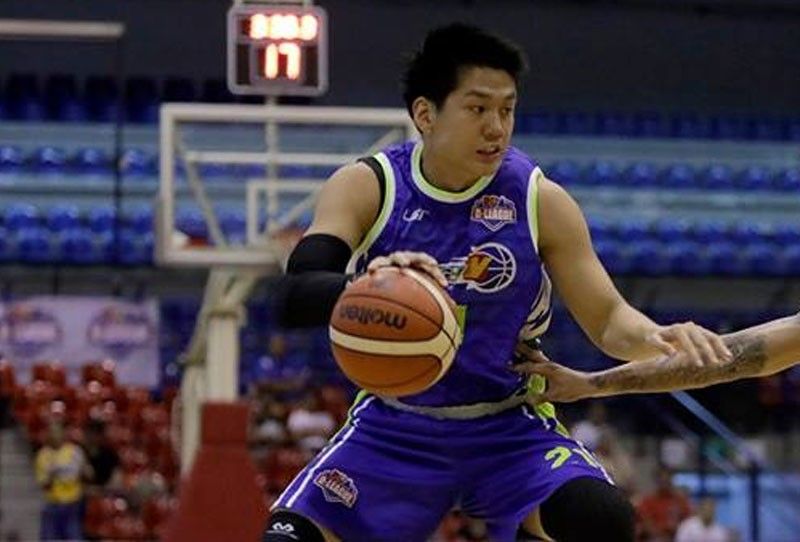 Jeron Teng
PBA Media Bureau
Aces shoot for playoffs in Philippine Cup
MANILA, Philippines — Jeron Teng is tipped to assume a more active leadership role on his third season with Alaska as the Aces get ready to shoot for the playoffs in the PBA Philippine Cup starting March 1.
"That's the goal, to qualify for the playoffs then we'll see how far we go," said Alaska governor Dickie Bachmann. "We're expecting big things from Jeron. We started practice in the first week of January but Jeron was back in the gym two weeks before, working out during the Christmas holidays. He's healthy again and with Vic (Manuel) fresh from a strong showing in the recent Southeast Asian Games and our guys coming together, we'll be competitive."
Teng, 25, suffered a hyperextended right knee late in Alaska's 105-102 win over Phoenix in the Governors' Cup last Nov. 13 and was sidelined in the Aces' last two games, including the 94-84 quarterfinal loss to Meralco that ended their season. Alaska opened the third conference, Jeff Cariaso's first as head coach, on a 0-5 skid with Teng out of commission nursing a hamstring strain. When Teng was reactivated, the Aces won four of five contests then came the knee injury. He wound up averaging 15 points, 7.8 rebounds and three assists in the Governors' Cup.
Bachmann said Mike DiGregorio's arrival via a trade with TNT for Simon Enciso adds a crack shooter to Alaska's firing squad. Rookies Barkley Ebona, Rey Publico and Jaycee Marcelino are also being counted on to contribute. "Barkley's a rugged three/four guy, more of an inside player and he's a big 6-4," said Bachmann. "Rey's also about 6-4, a shooter and rebounder. We're waiting for Rey to finish his MPBL obligations." Ebona is from FEU and Publico from Letran. Marcelino, a point guard from Lyceum, is a fireball on offense and heady playmaker.
Bachmann disclosed that veteran Sonny Thoss will hang up his jersey after the Philippine Cup. "We've signed up Sonny for one more conference," he said. "He's played his entire PBA career with Alaska and we want to give him a fitting send-off." Thoss, 38, broke into the league in 2004-05 and was the 2013 Finals MVP in the Commissioner's Cup. He played on three Alaska champion teams. Thoss was on the Gilas squad that took the silver medal at the FIBA Asia Cup in Changsha in 2015. In the last Governors' Cup, he averaged 4.3 points and 2.3 rebounds over 12 games.
"We've got Abu (Tratter) and Rodney (Brondial) to take over from Sonny at No. 5," said Bachmann. "Noy (Baclao) is still undergoing rehab. He's about eight months away from coming back. His contract has expired but we offered him a short-term renewal. Noy went to Meralco to find out if he could get a better deal but he's now back with us doing therapy." Brondial, Robbie Herndon and Maverick Ahanmisi joined Alaska during the last Governors' Cup and will play their first full conference with the Aces in the coming Philippine Cup.
Bachmann said Manuel's performance in the recent SEA Games was phenomenal. "Vic's playing his best basketball and we're hoping it carries over to the coming PBA season," he said. Manuel, 32, led Gilas in scoring with a 16-point clip in the SEA Games and was the only player on the national team to register double figures in every game. Other Aces returning to the fold include Jvee Casio, Kevin Racal, MJ Ayaay, G-Boy Babilonia, Yutien Andrada and Abel Galliguez.
Last season, Alaska made it to the quarterfinals of each conference but was thwarted with a twice-to-win disadvantage thrice in a row. In the Philippine Cup, the Aces were ousted by Phoenix and in the Commissioner's Cup, by TNT but not before forcing a winner-take-all rematch. In the Governors' Cup, Alaska was eliminated by eventual finalist Meralco. The last Alaska title came in the 2012-13 Commissioner's Cup and the last finals that the Aces played in came in the 2018 Governors' Cup.