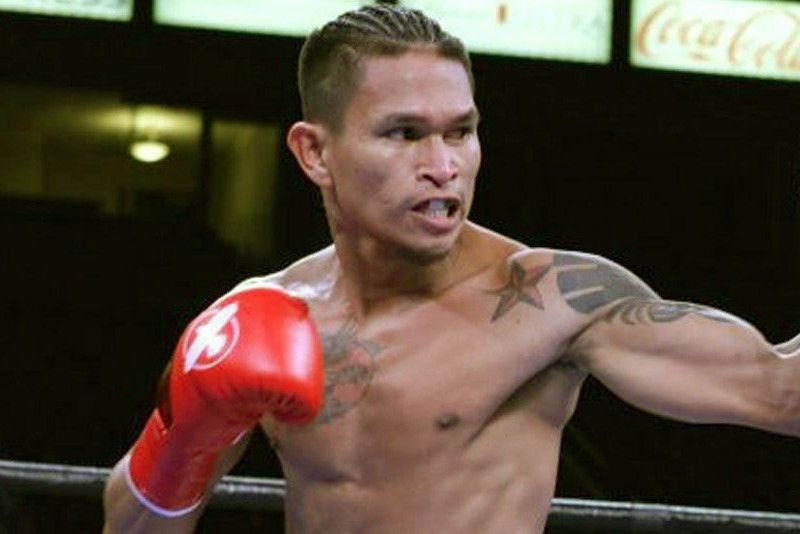 JohnRiel Casimero
ringtv.com
Casimero out to shock boxing world
MANILA, Philippines — WBO bantamweight champion JohnRiel Casimero will be ready to shock the world when he battles unbeaten super WBA/IBF titlist Naoya Inoue in Las Vegas on April 25 and if the Japanese is called the "Monster," the Ormoc slugger said he'll be known as the "Monster Buster" after the unification showdown.
Casimero, 30, and Inoue, 26, are making their second appearance in the US. But Casimero is more of a road warrior with wins in Nicaragua, Argentina, Panama, Mexico, China, US and the UK. Aside from the US, Inoue has fought once in the UK with all his other bouts in Japan.
Casimero is coming off a third round knockout over South African Zolani Tete in Birmingham while Inoue survived a grind in outpointing Nonito Donaire in his last outing in Saitama. Both fights were held last November. Casimero's record is 29-4, with 20 KOs. Inoue turned pro in 2012, five years later than Casimero, and has a 19-0 record, with 16 KOs. Each fighter has won world titles in two other divisions.
According to Casimero, he hasn't fought anyone whom he considers better than him and Inoue won't be an exception. He said his toughest opponent was South African Moruti Mthalane, who stopped him in Johannesburg in 2011. Casimero said he took the fight on three weeks' notice and had difficulty breathing because of South Africa's elevation. After five rounds, Casimero said he quit in his corner gasping for breath.
Casimero said if he's in condition, he's unbeatable. "Madali ang laban kung nasa-kondisyon ka," he said. For the Tete fight, he worked with Mexican conditioning expert Memo Heredia, who prepared Juan Manuel Marquez for his fourth fight against Manny Pacquiao. Casimero went to the US Embassy to apply for his visa last Thursday and he'll leave for Las Vegas to open camp with Heredia as soon as it's released. He's now walking around at 130 pounds.
"Parang three times mas malakas ako sa programa ni Memo," said Casimero. "Ramdam ko sa muscles. Kung 100 percent ako sa training, walang problema sa laban. Si Inoue, babagsak pag tinamaan ko, garantisado yan."
MP Promotions head Sean Gibbons, who arranged Casimero's fight against Inoue with Top Rank, said Heredia focuses on fast-twitch muscles and drills that are relevant to the game plan. "Boxing's not a race so Memo doesn't believe in fighters running up and down hills for miles," said Gibbons. "He gets fighters ready to fight, that's his expertise. He gets them in condition to win."
Gibbons said Casimero is a special fighter with special attributes. "You don't see too many fighters scoring late knockouts but Casimero makes it a habit because he doesn't run out of gas," he said, pointing to the Filipino's 10th round disposal of Cesar Ramirez last August, 12th round knockout over Richard Espinoza last April, 11th round stoppage of Felipe Salguero in 2013, 10th round demolition of Luis Lazarte in 2012 and 11th round TKO over Cesar Canchila in 2009. "He'll be earning his biggest paycheck in the Inoue fight, maybe three times more than what he got in the Tete fight. Casimero isn't just a power puncher but he's also a thinking fighter."
Casimero said fighting smart is critical. He cited Tete, who had a five-inch height and eight-inch reach advantage, as an opponent he had to outwit. Casimero said if he fought Tete from a distance, he'd never be able to find his range so he improvised. In the first two rounds, he made Tete comfortable by hardly throwing. In the third round, he stepped into Tete's strike zone and unleashed a brutal right hook to the temple from the blind side. Tete never knew what hit him. He crumpled to the canvas, got up at five, went down on a slip, took another mandatory eight count and was rocked by a left hook before referee Steve Gray stopped it.
Gibbons said Tete is a harder opponent than Inoue. "No secret in what Inoue will do," he said. "Inoue will stand in front of Casimero and he'll get hit. Donaire almost knocked him down, he was hurt and grabbed. But Donaire couldn't close it. If Casimero hurts Inoue, you can be sure he'll finish him off."