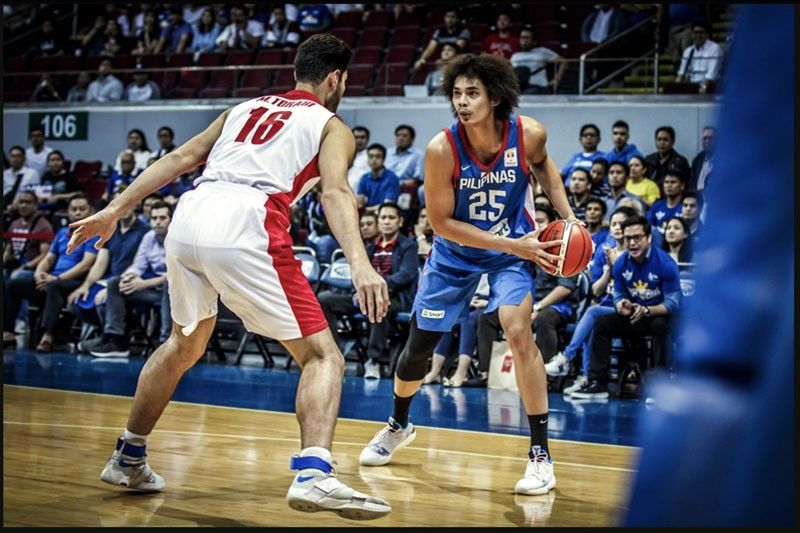 Japeth Aguilar (right).
FIBA.COM
Gilas ready to go to work
MILAN – SBP president and Meralco PBA governor Al Panlilio said yesterday Gilas will begin practice on Feb. 6 to get ready for the first window of the FIBA Asia/Oceania Cup with the top five picks in the recent PBA draft leading the 24-man pool from which to select 12 for two games in February and two more in November.
For the first window, Gilas will host Thailand on Feb. 20 and play Indonesia on the road on Feb. 23. Then, the Philippines will battle South Korea in an away game on Nov. 27 and Thailand in another road contest on Nov. 30 in the second window. On Feb. 18 next year, Gilas will host Indonesia and on Feb. 21, South Korea in the third window. There are 24 participating teams split into six groups. The Philippines was drawn into Group A with South Korea, Thailand and Indonesia.
Panlilio said he has asked SBP special assistant to the president Ryan Gregorio to verify reports that FIBA may postpone the schedule of the first window because of the health scare in Asia. The first window will not conflict with the PBA season schedule if the dates remain the same. The PBA will inaugurate its 45th season on March 1 and 11 in the 24-man pool are pros.
Panlilio said SBP has signed the top five PBA draft picks to contracts. They are Isaac Go, Matt and Mike Nieto, Rey Suerte and Allyn Bulanadi. The 11 pros in the pool are Poy Erram, Ray Parks, R. R. Pogoy, Kiefer Ravena, Japeth Aguilar, Christian Standhardinger, C. J. Perez, Mac Belo, Matthew Wright, Troy Rosario and Marc Pingris.
Panlilio confirmed that TNT active coaching consultant Mark Dickel will call the shots for the Philippines in the first window with Sandy Arrespacochaga and Serbian Nenad Trunic as assistants. Former Olympic and World Cup coach Tab Baldwin is the SBP director for Gilas. Panlilio said after the first window, SBP will conduct a search for a new Gilas full-time head coach. He added that SBP plans to build a pool of two or three naturalized players.
"We've received several applications," said Panlilio. "We're considering Angola head coach Will Voight who's now in Dubai with Mighty Sports. Nenad isn't a candidate. He headed the youth program in Iran and he will play a similar role with SBP. If our youth team travels abroad for training, we'll want Nenad to be with them. We expect our new head coach will be on board for the second window. As for the naturalized pool, Andray Blatche will not be included. He played his best games for Gilas at the 2014 FIBA World Cup in Seville and the sixth window of the FIBA Asia/Oceania World Cup qualifiers last year. We're grateful to Andray for his years of service."
Blatche was suspended three games for his participation in the Gilas-Australia brawl during the third window of the FIBA Asa/Oceania World Cup qualifiers at the Philippine Arena in July 2018. He became eligible for the second game in the fifth window but Gilas coach Yeng Guiao left him out of the pool. Blatche's lawyer later claimed he should've been paid for the game even if he didn't play but SBP said there was no such stipulation in his contract. For the sixth window, SBP signed Blatche to a new contract where he committed to start practice early and to be in top physical shape.
A bill was filed in the House for Ginebra import Justin Brownlee to be naturalized. Another bill was filed for Ivory Coast's Angelo Kouame of Ateneo for the same purpose. Panlilio said Rep. Robi Puno and Sen. Sonny Angara will spearhead the move in Congress to naturalize players.
Another naturalization candidate is former San Miguel Beer import Chris McCullough. Panlilio said he has instructed Gilas team manager Gabby Cui to determine McCullough's interest. "I read McCullough's tweet about wanting to become a naturalized Filipino," said Panlilio. "We'd like to find out if we can afford him and whether he intends to stay in the country. When Meralco played at the FIBA Asia Champions Cup in 2018, we initially chose Liam McMorrow to play with Allen Durham as our two imports. But Liam got injured and was replaced by Diamond Stone. I think Liam, who's 7-2, could be a naturalized candidate."
Panlilio said five-time PBA MVP June Mar Fajardo wasn't named to the 24-man pool to give him a rest. "The second window will run smack into the PBA season schedule so it's possible the nucleus of our 12-man lineup will be non-pros," he said. "If necessary, we may request the PBA for two or three or four players and maybe June Mar could be one of them."
Standhardinger will be Gilas' naturalized player in the first window even if he acquired his Filipino citizenship not by naturalization but by blood after turning 16. For the coming second window, Kouame or Brownlee or somebody else may report as a naturalized player.