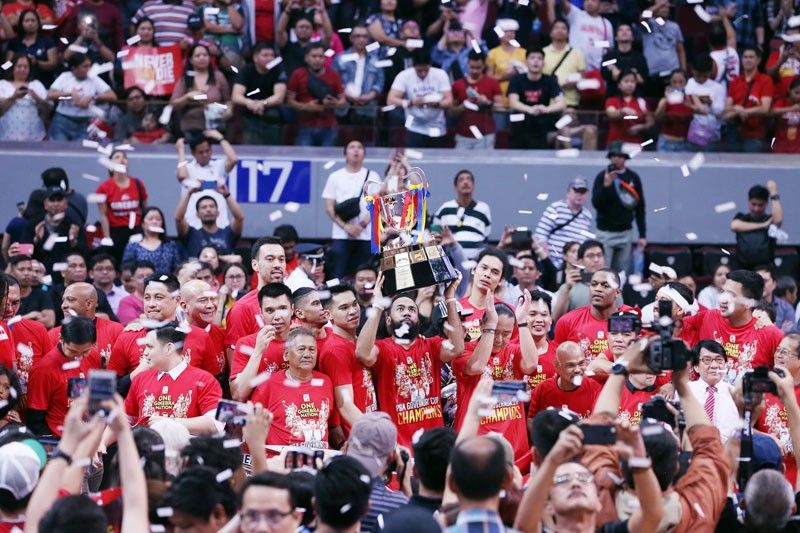 The Gin Kings whoop it up at centercourt.
JUN MENDOZA
Olmin Leyba
(The Philippine Star) - January 19, 2020 - 12:00am
MANILA, Philippines — Barely warmed up in its throne as PBA Governors' Cup king, Barangay Ginebra is already homed in on the crown jewel of Asia's first play-for-pay league – the Philippine Cup.
"We'll certainly go for it. We feel like we have the tools," Gin Kings coach Tim Cone said after wrapping up their third Governors Cup crown in four years at the expense of old rival Meralco Bolts, 4-1.
In the midst of the celebrations that erupted after their 105-93 clincher, guard LA Tenorio reminded Cone of Ginebra's fruitless search for the prestigious all-Filipino crown. For the record, the most dominant squad in the import-flavored season-ender hasn't lifted the Philippine Cup trophy since the 2006-2007 season.
"LA came up to me, (saying) 'We got to win the All-Filipino. I haven't won the All-Filipino yet,'" LA said. "So I think he's going to get everybody keyed up to it," Cone shared.
Unlike the past few years, Cone has an import-like weapon in the next wars in Stanley Pringle, who was the "difference-maker" in their current roster.
"I think Stanley gives us our best chance. Having Stanley now, having that constant threat on the floor is going to open up things for everybody else," he said.
"He almost plays an import-like role out there. So, they have to count for him and it gives guys like Japeth (Aguilar) and Greg (Slaughter) the opportunity to really step forward and be the dominant guys instead of stepping back and letting the import do that," he added.
Cone didn't need a lot of motivating to drive the crowd darlings in the next season-opener, which five-peat champ San Miguel Beermen have made their domain.
"You win the All-Filipino, you're the best team. We've had the best import (Justin Brownlee) and that's why we won. But we win this, it will be us being the best team," he said.
"It's going to be tough. Everyone's getting better but we hope we can use this conference to gain momentum into the All-Filipino," he added.
Ginebra unleashed a wide array of heroes in ruling its pet conference.
Leading the way was the indefatigable Brownlee, the anchor of their third consecutive triumph over Meralco.
He was ably complemented by Aguilar, the Honda PBA Press Corps Finals MVP, whose block parties and inside incursions were a constant, and mid-season acquiation and finals debutant Pringle.
There's also the reliable Tenorio and his leadership, and Scottie Thompson with his high-flying rebounds and defensive work that stymied Chris Newsome in the windup.
"Our guys played great. To beat a team like Meralco three straight, that's really something. Sayang (It's unfortunate) about Raymond Almazan's injury but we fought hard for a championship. We're not going to feel sorry for the other team.
"We got to go out and take advantage wherever we can. That was a big turnaround in this series....we're able to take advantage of it. Otherwise, it would have gone seven games. But again we fought for the championship and we'll take it – four, five, six, seven games, it doesn't matter. We just want to win," said Cone.
Notes: Ginebra guard LA Tenorio said they hoped the victory would somehow brighten the days of his fellow Batangueños who are currently dealing with Taal Volcano's eruption. "This is very special considering we dedicated this to them. Hopefully in some way, we were able to put a smile on their faces."