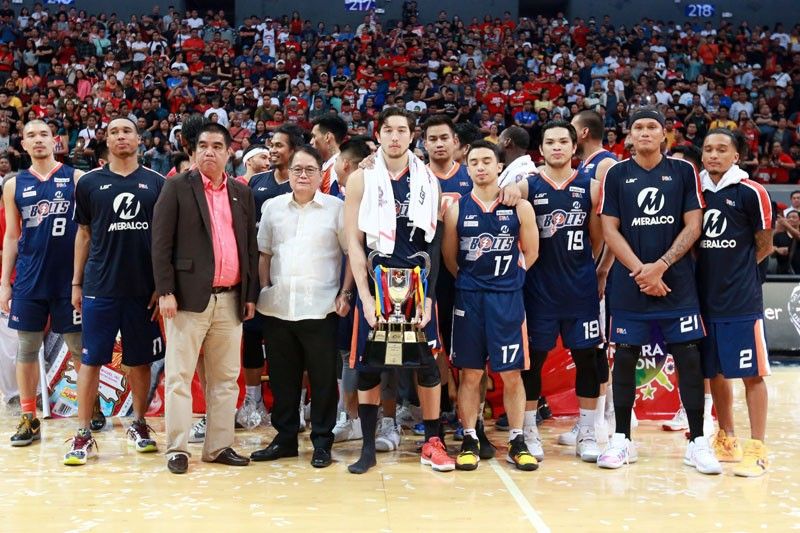 The Meralco Bolts with PBA commissioner Willie Marcial and chairman Ricky Vargas after the hard-fought series.
Jun Mendoza
MERALCO's unfinished business
Olmin Leyba
(The Philippine Star) - January 19, 2020 - 12:00am
MANILA, Philippines — The fallen Meralco Bolts are counting their blessings despite falling short again in their battle with old tormentor Barangay Ginebra for the PBA Governors' Cup diadem.
The Bolts, according to coach Norman Black, saw an upgrade during the recently-concluded season, which bodes well as they keep fighting in the next wars.
"We came in at 11th place (Philippine Cup) and eighth place (Commissioner's Cup) before the third conference. But the addition of Raymond (Almazan) and Allein (Maliksi) and the return of AD (Allen Durham) made us a much more competitive team and gave us a chance to win a championship this conference," said Black.
"I have to be very happy with that. It shows that we improved our talent and talent wins games," he added.
Durham, the three-time Best Import, is aching for a chance to complete an unfinished business next season.
"I'm determined to win a championship with these guys. They're grown to be my brothers. They deserve to get one, too. We'll talk with management and stuff like that, obviously get some time pass but I'm definitely still hungry," he said.
"We'll go back to the gym. We're going to try our luck again. We're gonna keep going until we get that breakthrough."
Acquired just before the Commissioner's Cup in a trade with Rain or Shine, Almazan gave Durham the inside support that was missing when Meralco fought and lost two previous title duels with Ginebra.
However, Almazan sustained a lateral meniscus tear on his left knee in Game 3, and with it limped Meralco's chances.
"We faced a lot of adversity in this series. We lost our big man in the third game, first quarter, and we never seemed to be the same team again," said Black.
"We went up against a team that's quite big and quite talented. And without Raymond our interior defense suffered. Before Raymond got hurt, the series was tied, 1-1. The first quarter was a close quarter, so we're very competitive. But once he got hurt, everything seemed to have changed," he rued.
Still, Black and the Bolts won't take away the fact that Ginebra worked hard to win it.
"A lot of credit should go to Ginebra," said Black.
"Ginebra, they were the better team in this series. We definitely had opportunities in Game 1, opportunities in Game 3 and stuff that we just didn't capitalize. We couldn't get the 50/50 things so hats off to them. They played tough all the way, even in the game that we did win. They played tough until the final buzzer," said Durham.