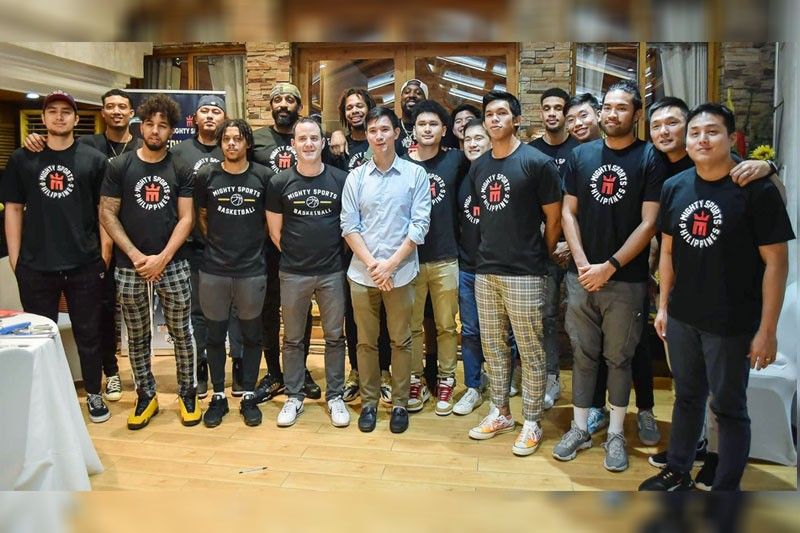 Members of the Mighty Sports team pose during a press launch for its title bid in the Dubai International Basketball Tournament.
Mighty eyes grand prize in Dubai tilt
MANILA, Philippines — Win the championship no less is the mission of the stacked Mighty Sports-Philippines when it flies the flag against top Asian clubs in the coming 31st Dubai International Basketball Tournament.
Coach Charles Tiu is confident they can achieve the goal with a strong hybrid roster of veteran imports and rising local stars at his disposal.
"I really like our crew. You look at the guys, all the college stars are out here and our imports are very solid," said Tiu in the sendoff press conference ahead of their Dubai flight.
"We better win the championship, that's all I can say. Hopefully we learned our lessons from our mistakes last year," he added.
Then bannered by resident PBA import Justin Brownlee and NBA veteran Lamar Odom, Mighty Sports fell short in the Final 4 against Lebanon's Al Riyadi.
With that painful exit, Tiu assembled a squad led by long-time Gilas Pilipinas naturalized player Andray Blatche, veteran imports Renaldo Balkman and McKenzie Moore as well as up-and-coming guard reinforcement Jelan Kendrick in a bid to be the first team outside Middle East to win the competition.
Team owner Caesar Wongchuking believes Mighty has what it takes to win.
"I'm beaming with pride. I'm very happy to be part of this and be able to assemble this much talent while they're still not in the PBA. I think (the core) of this team will represent the Philippines in the future," said Wongchuking on Mighty's youth brigade led by Thirdy Ravena and Kai Sotto.
"There's no non-Middle Eastern team that has won this tournament so I'm really looking forward to have a strong showing this month."