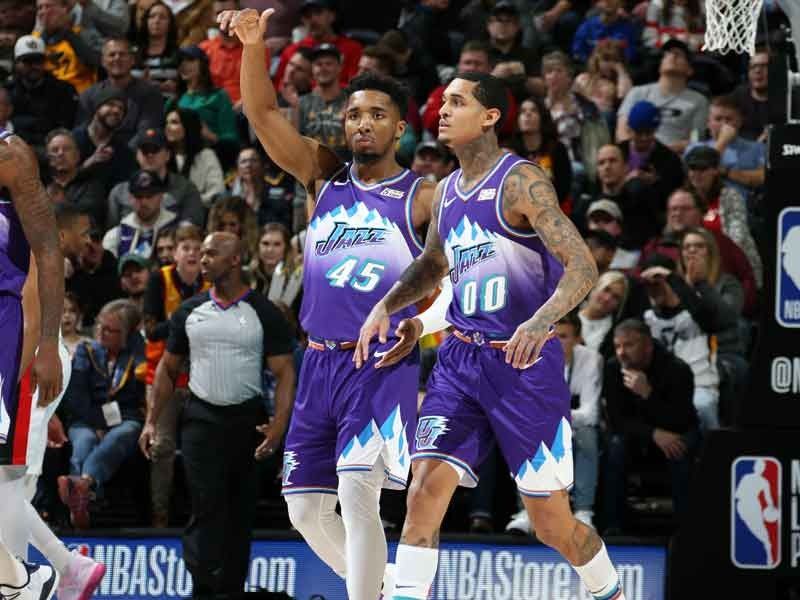 Donovan Mitchell and Jordan Clarkson of the Utah Jazz high-five during a game against the Portland Trail Blazers on December 26, 2019 at vivint.SmartHome Arena in Salt Lake City, Utah.
Melissa Majchrzak/NBAE via Getty Images/AFP
Utah Jazz star Donovan Mitchell 'praying for Philippines' amid Taal Volcano eruption
MANILA, Philippines — Utah Jazz star Donovan Mitchell gained more than a few Filipino fans on Monday night after expressing sympathy for the country, which is still reeling from the after-effects of the eruption of Taal Volcano.
"Damn this is wild! Praying for the Philippines and everyone effected," he tweeted on his personal Twitter account.
Damn this is wild! Praying for the Philippines and everyone effected ???????????? https://t.co/y50YT71hOs

— Donovan Mitchell (@spidadmitchell) January 13, 2020
One Twitter user wrote back in response, saying, "Been there few weeks ago. Filipinos are probably the closest and most brave people on Earth. Typhoons, Earthquakes, now volcanos. They help each others thru those difficults moments. Prayers to them!"
Mitchell previously visited Manila to to promote shoe and apparel brand Adidas, instantly becoming a fan favorite after he expressed that Filipinos "love the game like crazy."
The national seismological agency hoisted alert level 4 hours after Taal Volcano erupted Sunday afternoon, which indicated that a "hazardous explosive eruption is possible within hours to days.
Additionally, the state disaster response bureau has confirmed in a bulletin that thousands were forced to seek shelter in evacuation centers.
The Jazz guard is a teammate of Filipino-American Jordan Clarkson, who previously represented the :Philippines in the 2018 Asian Games.
Clarkson earned a role playing alongside Mitchell after coming over to Utah in a trade deal that sent Dante Exum to Cleveland.