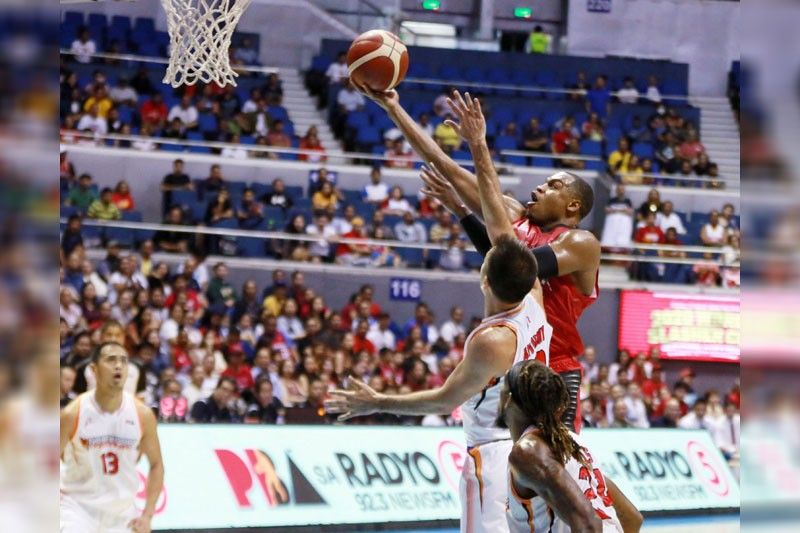 Ginebra's Justin Brownlee stretches for a layup against NorthPort's Sean Anthony. The Gin Kings advanced to the finals with a 120-107 win.
JUN MENDOZA
No easy task ahead for Ginebra
Olmin Leyba
(The Philippine Star) - December 22, 2019 - 12:00am
MANILA, Philippines — Early finalist Barangay Ginebra braces for the toughest possible opponent in the PBA Governors' Cup championship series no matter which one between TNT KaTropa and Meralco Bolts end up on the other side.
The Gin Kings clinched the first finals berth with a 3-1 victory over NorthPort on the strength of Friday's 120-107 shellacking and now await the result of the other semis duel between the KaTropa and the Bolts. TNT led Meralco through three games, 2-1, and was eyeing the clincher last night in Antipolo.
"At this point, whoever we play between Meralco or Talk N Text we know it's going to be tough. Those two teams are pretty much the top teams for the most of the conference," said Gin Kings import Justin Brownlee.
It's like choosing between a rock and a hard place for coach Tim Cone.
"We'll just wait who wins between Meralco and Talk N Text. It doesn't matter to me," said the Ginebra mentor, whose team suffered a 77-101 blowout in their elims meeting with the Bolts but emerged victorious against the KaTropa, 96-93.
"Meralco blew us out and (Allen) Durham is awesome. We played Talk N Text and beat them but they didn't have Jayson Castro (then due to injury). Obviously he's an impact guy, so I'm not comfortable with either one of them. There's no lesser between two evils there," said Cone.
Ginebra gets a chance to regain lost glory in the season-ending Governors' Cup. Brownlee and the Gin Kings snared back-to-back titles in 2016 and 2017 but failed to get past the semis when they targetted a hat trick last year, losing to Magnolia which eventually succeeded them at the throne.
Their Governors' Cup triumphs came at the expense of Meralco, making vengeance a major factor should the Bolts advance. On the other hand, if the KaTropa make it, hunger also plays a big factor as TNT is coming off a a heartbreaking loss to San Miguel in the last Commissioner's Cup finale.
"If we play Meralco, there's certainly not going to be an advantage (for us) just because we played them twice and we beat them twice. They're going to be super hungry to play us. If we play Talk N Text, you know, TNT has been in the finals recently also so there's not really that much of advantage at this point," Cone said.
Ginebra returned to the PBA finals after a three-conference absence, utilizing its deep bench to get rid of an overachieving NorthPort crew.