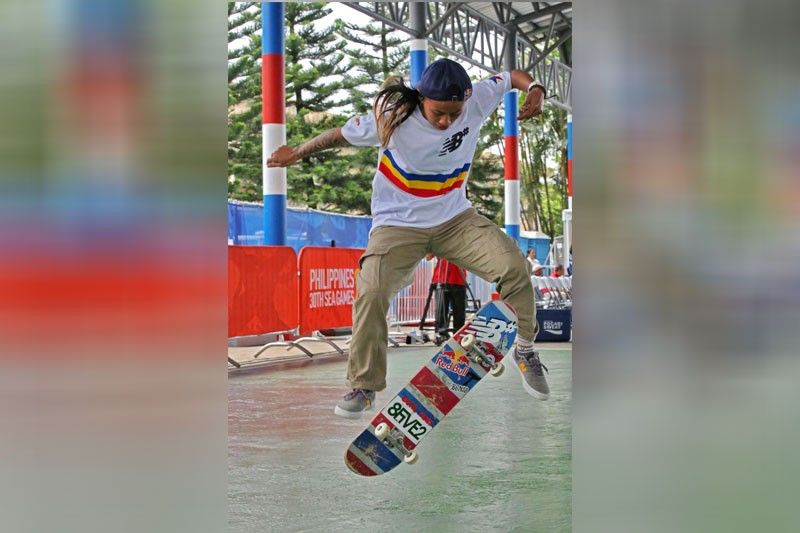 Team Didal: No dilly-dally in chase of Olympic spot
MANILA, Philippines — Making it to the Olympics is now the next big goal for Filipina skateboarding sensation Margielyn Didal after stamping her class both in the regional and continental levels.
Didal, the 20-year-old star, was on a league of her own in the just-concluded 30th SEA Games as she copped two gold medals, leading the Nationals' six-gold haul in the skateboarding competitions that made its debut in the biennial meet.
It proved to be a fitting follow-up to her breakthrough gold-medal feat in the Asian Games in Palembang, Indonesia last year.
That Asiad triumph also made Didal as the only Filipino in Time Magazine's Top 25 Most Influential Teens of 2018.
And there' no stopping the Cebu City-native teen just yet as she sets her sights in flying the flag even higher in the Olympics in Tokyo, Japan next year.
Didal is currently running 13th in the women's street world rankings and on course to make it as the top 20 skaters will be given tickets to the 2020 Tokyo Games.
As comfortable as Didal's position is, Skateboarding and Roller Sports Association of the Philippines president Monty Mendigoria is not keen on lowering his prized ward's guard to stay in the middle of the rankings and climb even higher until the end of the qualifiers in May 2020.
"It's not gonna be easy for everyone will surely be catching up and pulling each other down in the ranks," Mendigoria told The STAR. "But we want to have a better, more comfortable slot so we're aiming to make it to at least top 10 or top 8."
To do it, Mendigoria vowed to field Didal in all remaining seven qualifiers starting in Peru this January with the help of major backer Go For Gold, the Philippine Olympic Committee (POC) led by Abraham "Bambol" Tolentino and the Philippine Sports Commission (PSC) headed by chairman William "Butch" Ramirez.
"The POC and the PSC already promised us help in supporting all the competitions we're joining next year. It's expensive to join and stay in the Americas so we'll be needing their support," said Mendigoria, also looking forward to other qualifiers slated in China, Japan and the US.
"It's not gonna be easy but that's our target next year."