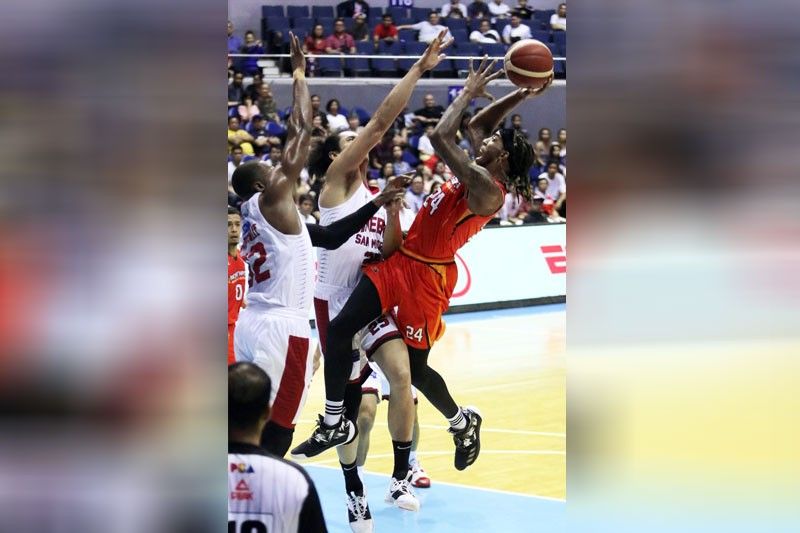 NorthPort import Michael Qualls takes a fall-away shot versus Ginebra counterpart Justin Brownlee and Japeth Aguilar in Game One of their own semis playoff Saturday. The Batang Pier pummeled the Kings, 124-90.
Russell Palma
Olmin Leyba
(The Philippine Star) - December 16, 2019 - 12:00am
Best-of-five semis opener
MANILA, Philippines — The TNT KaTropa juggernaut revved up in the third quarter, clearing the path to a masterful 103-94 Game One victory over Meralco last night at the Smart Araneta Coliseum.
With Jayson Castro, KJ McDaniels, and RR Pogoy masterminding a stinging third-period explosion, the KaTropa beat the Bolts for the 1-0 upper hand in their PBA Governors' Cup best-of-five semifinal series.
"I'm very glad to win the first game which is very important. But there's nothing to celebrate. It's just Game One, the series is still far from over," said TNT coach Bong Ravena.
McDaniels asserted himself against the Bolts' defense and scattered 38 points on top of 14 rebounds even as Castro flirted with a triple-double outing with 17 points, eight rebounds and seven assists, and Pogoy rifled in 18 markers spiked by four triples to fuel TNT's offense.
The KaTropa spoiled the 32-21 performance of Allen Durham, who orchestrated a serious Bolts uprising that McDaniels and Co. quelled heading to the finish line.
"We're able to limit them to below 100 points, but we still have to find ways to stop Durham next time. If we can do that, things will be easier for us," said Ravena.
The KaTropa also drew double-digit outputs from Ray Parks and Troy Rosario, who each chipped in 11.
Allein Maliksi (15) and Chris Newsome (14) backed up Durham over at the Meralco side.
The Bolts stayed within three points of the KaTropa in the early part of the penultimate period before Castro sparked a telling 18-2 salvo that ripped the game open, 69-54.
Castro fired 10 in the game-changing third, where he and McDaniels (10) and Pogoy (eight) joined forces for a 30-20 quarter and a 77-61 cushion.
The KaTropa enjoyed as many as a 22-point lead before Durham provided the muscle in a Meralco fightback that cut the lead down to eight at 93-85. However, McDaniels was there to douse cold water on the Bolts' charge and iced it for TNT.
Meanwhile, ranged against a team that lives on the mantra never-say-die, NorthPort knows handing Barangay Ginebra a 34-point beating in the opener won't get their opponent in their own semifinal duel disheartened one bit and feel hopeless.