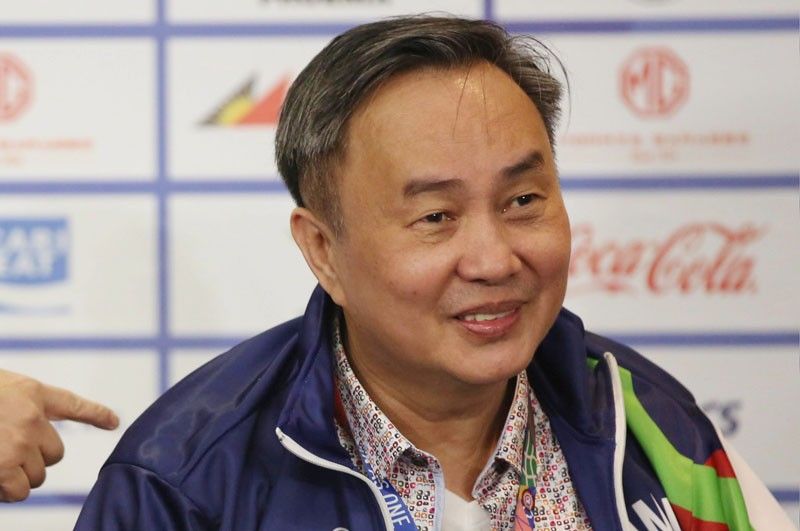 Bambol: Each Pinoy SEAG winner
MANILA, Philippines — As crucial as the athletes' training and international exposures, mapping up a master plan on the meet calendar played a big part in Team Phl's triumphant campaign in the just concluded 30th Southeast Asian Games.
The host calendared 56 sports dangling a total of 530 gold medals, and the 1,080-strong Phl contingent dominated, starting with a 23-gold haul in Day One then refusing to slow down on the way to a breakaway overall championship with a total take of 149 golds.
"In the end, 56 sports allowed us to make the impossible possible – winning the overall championship of the 30th SEA Games," said Philippine Olympic Committee (POC) President Rep. Abraham "Bambol" Tolentino.
Tolentino, also the cycling federation president, is credited for the 56-sport Philippine SEA Games that he literally had to fight for.
"I knew that the best way to emerge overall champion is to use this formula. And now, we all know that it worked," he said.
The process was tedious, and Tolentino had to go one-on-one with national sports association (NSA) officials in order for him to determine what exactly are the events that would deliver the medals.
"It was a long and meticulous process, talking with NSA presidents and secretary generals, asking for their honest impressions on which events must be included and which shouldn't," he said. "It's about deleting those events where Filipino athletes won't potentially win the golds."
In the SEA Games, a host country has the privilege to determine which sports – and events – would be on the competition program – although these have to secure the SEA Games Federation approval.
The current POC goes down in SEA Games and Philippine sports story as the most successful following the 387-medal haul by Team Philippines that included 149 gold, 118 silver and 120 bronze medals.
So dominant was Team Philippines that Filipino athletes left their opponents eating dust. Vietnam was a far second with 98 gold, 85 silver and 105 bronzes, followed by Thailand with 92-123-103 (gold-silver-bronze), Indonesia 72-84-11 and Malaysia 55-58-71.
The home court advantage, according to Tolentino, played a major role for the victory with the local fans cheering wildly for each and every Filipino who competed in the Games.
"It was one big, big effort. Winning the overall championship was not solely on the athletes' shoulders, but each and every Filipino," Tolentino said.
The competitions went on smoothly – with Typhoon Tisoy momentarily stalling the schedules – with the writing on the wall showing the Filipino athlete has made its mark.