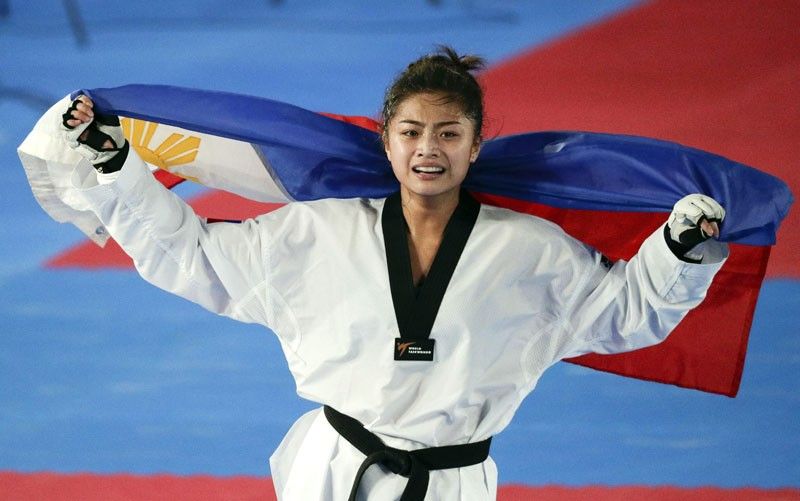 Pauline Lopez, one of eight gold medalists in taekwondo, proudly carries the Philippine flag after beating Cambodia's Aliza Chhoeung.
Joey Mendoza
30th SEA Games Philippines athletes No. 1 in Olympic sports
Olmin Leyba
(The Philippine Star) - December 13, 2019 - 12:00am
MANILA, Philippines — Team Philippines dominated a Southeast Asian Games that featured indigenous and non-Olympic sports, but if you strip the competition down to Olympic events, the hosts still emerged No. 1 among the 11 member countries.
Making a minefield out of the 530 events in 56 sports, the Filipinos raked in an all-time-high 149 golds medals to go with 117 silvers and 121 bronzes and ran away with the overall championship over Vietnam (98-85-105) and Thailand (92-103-123).
The hosts made a killing in arnis, the country's national sport, where they posted 14 triumphs as well as four runner-up finishes and two third-place standings, accounting for nearly 10 percent of the triumphant delegation's overall golden haul.
With their natural grace and dancing skills, it didn't come as a surprise that the Pinoy bets similarly struck hard in dancesport, another non-Olympic sport, where they cornered 10 victories plus two silvers for the Phl drive.
However, bets from Olympic sports led by athletics, taekwondo and boxing were not far behind and made huge contributions to Team Philippines.
Together, Phl's brightest from 32 sports in the Summer and Winter Olympics calendars gave the hosts 78 golds, still good to finish ahead of the Vietnamese, who got 73 and the Thais, who copped 69.
The tracksters delivered 11 mints, eight silvers and eight bronzes – the most medals in the Phl camp – spiked by SEAG record-shattering wins by 200m queen Kristina Knott and pole vaulters EJ Obiena and Natalie Uy while the taekwondo jins came through with 8-9-4 (counting the poomsae events and weight categories not played in the Olympics) – and the boxers spearheaded by world champ Nesthy Petecio punched in 7-3-2 (men and women combined).
Margilyn Didal and the skateboarding crew sparkled with their six-gold, four-silver, one-bronze collection even as Gilas Pilpinas men's and women's squads did a clean sweep of the 3x3 basketball and 5-on-5 hostilities.
Aces from gymnastics (led by double winner and reigning world champ Caloy Yulo), cycling, judo, rowing, sailing, shooting, surfing, and triathlon sizzled with three won events apiece while the home pride in fencing, golf, karatedo, modern pentathlon, surfing, weightlifting (bannered by Rio Games silver medalist Hidilyn Diaz), and wrestling took home two golds each.
Filipinos also pulled off a winning performance in archery, baseball, women's softball, canoe, men's rugby sevens, and tennis.
The Vietnamese bets' feats in the Olympic sports were anchored on their tracksters, wrestlers and swimmers, who produced 16, 12, and 10 mints, respectively, while the Thais' drew heavily from their outings in athletics (12), judo (7), cycling (7), and taekwondo (7).
With the overall title in the bag, the challenge now is to sustain this heading to the next SEAG in Hanoi.
"We need a period of consistency kasi ang mangyayari niyan sa Vietnam is baka babagsak na naman tayo (we might slip again). It's a never-ending feast-and-famine cycle. Like in 2005 we did very well (and won the overall championship) but what happened? Pagdating ng 2007, bumagsak tayo (we fell to sixth in the next one in 2007). There's a need for consistency in Olympic sports," said athletics chief Philip Ella Juico.