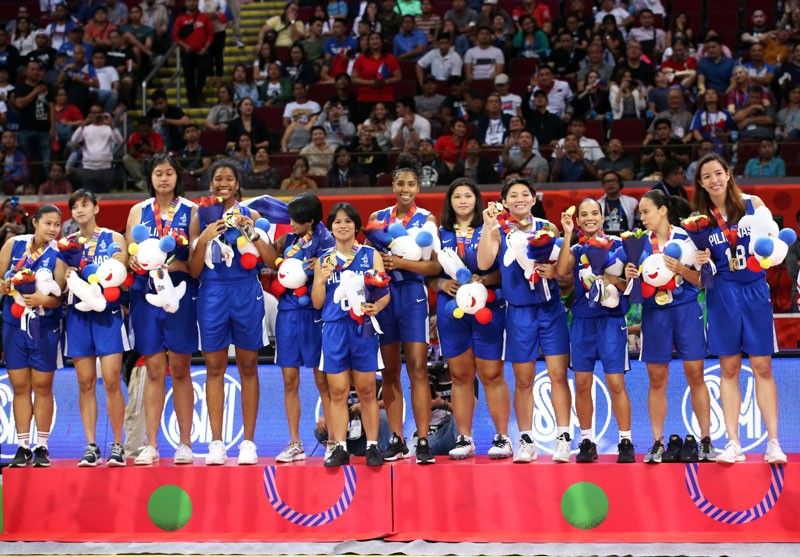 Gilas women just getting started
Olmin Leyba
(The Philippine Star) - December 13, 2019 - 12:00am
MANILA, Philippines — The victory of the Gilas Pilipinas men's team in the Southeast Asian Games was par for the course but for their female counterparts, it's a glorious moment forever etched in memory and a good springboard to bigger things down the road.
"We're not stopping here," said coach Pat Aquino, whose spirited charges ended years of hunting for that elusive tiara with a 91-71 rout of five-time winner Thailand.
"The girls really want to prove more and their attitude towards the game is simpy incredible. Having them play for the country is something me and my coaching staff are really proud of,"said Aquino.
They missed the podium in the past two editions but this only made Gilas women more determined to break through on home ground. The Pinay dribblers dismantled long-time tormentor Indonesia to get the ball rolling then dethroned three-peat-seeking Malaysia and dropped the axe on the Thais to finally soar to the top.
This was the climax to a stellar SEAG stint that saw the Filipinas dominate the inaugural 3x3 tournament the week before.
Even Gilas men's coach Tim Cone took great notice.
"I honestly think the bigger story is the women's team," he said after the fancied Gilas men annexed the country's 13th consecutive SEAG mint.
"We're overwhelmingly favored to win so the fact that we did it is not as big a story as the women stepping up and winning their first gold. That was amazing. When they started in this tournament, nobody was paying attention to them at all. They just started beating one team after the other. And starting from the 3x3. What a great way for the women's team and the country."
For Cone, Gilas women's coronation as SEAG queens is going to "turn on the country to women's basketball."
"There's so much room to grow and I think we can be a force in Asia, and not just Southeast Asia. It's nice to see everybody get so excited about it," he said.
The Samahang Basketbol ng Pilipinas leadership expressed the same sentiment.
"The SBP strongly believes that this is just the beginning as there's a brighter future ahead for our Gilas Pilipinas women's team." said SBP president Al Panlilio.
Aquino, who is also the program director for women's basketball, appealed for continued support.
"Since Day 1, we wanted to make it great for Philippine women's basketball. Now that we're here, we have achieved our goals, we hope to keep it growing. Let's not let this just pass by. We could achieve more if we get support. It's important we sustain this. We already did our part. Hopefully the support continues to come as we aim for the next level," he said.