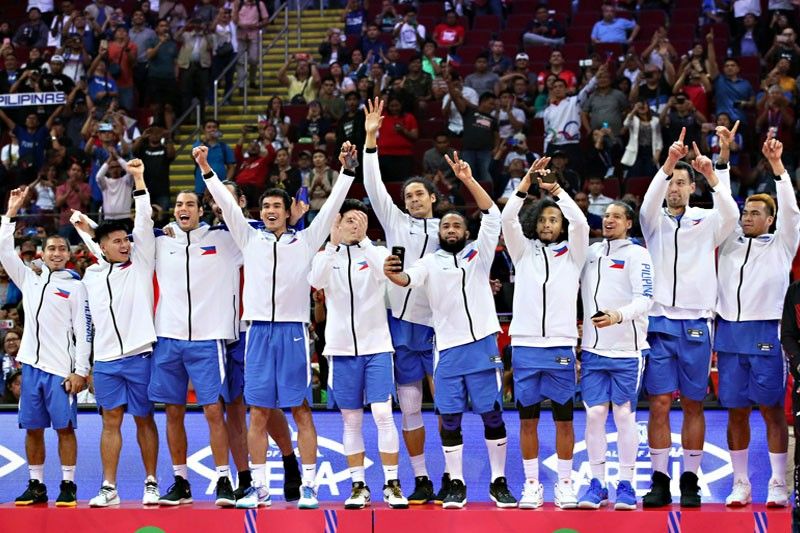 Members of Gilas Pilipinas celebrate their unbeaten run towards the SEA Games crown.
Cone: Southeast Asia catching up
Olmin Leyba
(The Philippine Star) - December 12, 2019 - 12:00am
MANILA, Philippines — The Philippines remains perched in its position as the undisputed king of Southeast Asian Games basketball but Gilas Pilipinas coach Tim Cone urged Filipino cagers to stay on their toes with regional rivals becoming better and better.
Cone's all-pro squad posted an unbeaten run to the SEAG crown but encountered stiffer-than-usual resistance from vastly-improved challengers who are beginning to gain from enhanced basketball programs and the arrival of half-American players and foreign coaches.
"They're growing," Cone noted of Asean aspirants like runner-up Thailand, bronze medalist Vietnam and the Rajko Toroman-coached Indonesia.
With the emergence of the Asean Basketball League and the establishment of domestic leagues, the said countries have improved so much that Cone believed an all-amateur Philippine quintet may not have been good enough to fend off the challengers.
"From a coaching standpoint we are asking one another if an amateur team can beat these teams and everyone said 'No.' We can't bring amateurs anymore to the SEA Games. They (opposition) have gotten too good we got to bring our best players, who are in the PBA," said Cone, whose team needed a big second half surge to dispatch Vietnam, Indonesia and Thailand.
"(From the pros) We got the size, we got shooting, we got point guard quality, we got defenders. You bring amateurs, who would be the center, the 6-9, 6-10, 6-11 guys that can compete with the Thais, the Vietnamese and the others like June Mar (Fajardo) and the other guys can? They don't so yeah, honestly, Southeast Asia is catching up.
"And that's a good thing for basketball around the world. It's a good thing for us and it's a good thing for them," he noted.
Cone and his wards gave the Philippines its 13th consecutive basketball crown and 18th overall, sealing a clean sweep of the four basketball events. Prior to Gilas' expected romp, the Gilas women broke through with their maiden triumph, sustaining the momentum from Gilas' previous success in the inaugural men's and women's 3x3 plays.
"With the country hosting the SEA Games, it gave us an opportunity to be able to showcase the best team we could form," said Samahang Basketbol ng Pilipinas president Al Panlilio.
Cone assembled veterans for this endeavor, who blended nicely and fought for one another, never trying to outshine the rest.
"I was tasked with the idea of putting a strong team together and coming out and trying to showcase our PBA skills in the region and I thought basically we accomplished that," he said.
"The construction of this team is really good in terms of balance – shooters, big men and defenders. And just the chemistry of this team is awesome. The guys are all veterans. They know the game. They're so responsive to anything we want them to do," he added.
A two-time PBA grand slam champ, Cone considered the SEAG gold a highpoint of his career.
"You can't go wrong with the gold medal. My gosh, a gold medal. That's something you can remember forever," Cone said.
"I mean, if you're like (multi-titled swimmer) Mark Spitz and had 10 golds medals, maybe that's something (normal) but if you got one, that's going to be incredibly special," he added.
If Cone and most of the guys like Fajardo celebrated their first SEAG gold, Kiefer Ravena won his fifth.
"This one's more special because firstly, it was held here in Manila and everybody was able to come and support us. Secondly I wasn'r originally supposed to be with the team and just came in to replace Jayson (Castro)," said Ravena.