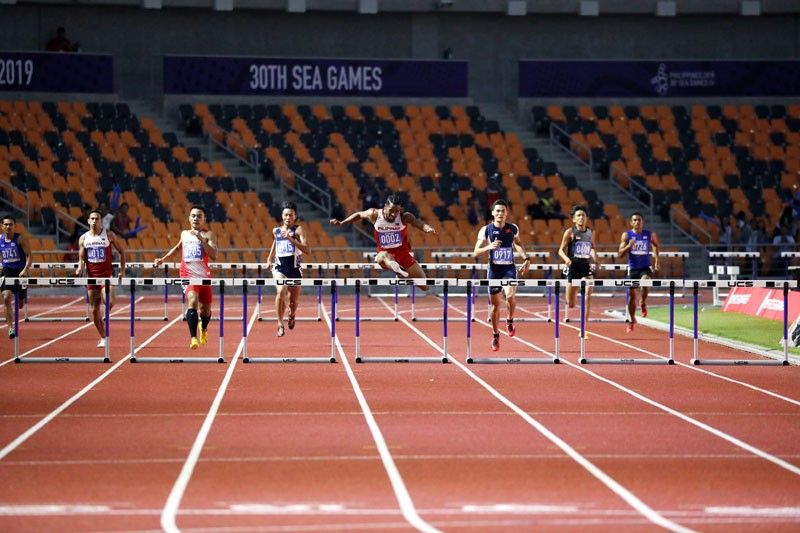 Eric Clay ruling the 400m men's hurdles, and the Phl athletics team won a total of 11 golds their best since the 1983 Games.
Jun Mendoza
Relentless to the finish By
Dante Navarro
(The Philippine Star) - December 10, 2019 - 12:00am
MANILA, Philippines — The national anthem was played late Monday to cap Team Philippines' most productive campaign then again early Tuesday to kick off the hosts' final day drive – both delivered by a debuting sport that served as gravy to spice up the country's rise to the SEA Games throne.
The Pinoy athletes still churned out an 11-gold output (as of 8 p.m.) yesterday that hardly mattered to what had been seen as an impending triumph as early as Day 7 of the 12-day meet when the hosts virtually put the outcome beyond doubt with another gritty, if strong performance to stay way ahead of Indonesia by 39 gold medals.
They kept that big cushion in the next day then unleashed their full might in Day 9 to dash whatever hopes the others had in toppling the fired-up Filipino bets, who hauled in a campaign-best 25-gold feat to pull away by 54, this time over a late-charging Thailand.
Philippine Sibol delivered the last gold in quiet fashion the way it did in Day 8, then snared another to start Tuesday's play, assuring the country of the overall crown in the inaugural staging of eSports in the biennial meet while providing some spark to another explosive windup in the final day of competitions in the 30th staging of the regional meet.
Late victories in athletics and kickboxing (two each), a breakthrough gold in women's basketball and a victory in women's 9-ball doubles in billiards came on the heels of the Pinoy athletes' earlier wins in soft tennis, shooting, eSports and jiujitsu (two) with the highly fancied Gilas 5 tipped to cap the night with another men's cage gold against Thailand at the MOA Arena.
With a 148-116-119 (gold-silver-bronze) output, Team Phl moved less than 24 hours away from formalizing its claim on the overall championship, the last gold (beach handball) to be disputed early today.
The Philippines will be officially awarded the overall championship, its second since reigning supreme as host in 2005, ending a string of fifth-sixth place finishes in the last six SEAGs, including a worst seventh-place finish in the 2013 Games in Myanmar.
With the Phl beyond reach, Vietnam and Thailand kept their neck-and-neck battle for second with Vietnam moving ahead with late victories in athletics to improve to 95-85-103, dropping the erstwhile second-running nation to third with a 91-103-122.
Indonesia remains at distant fourth with 72-82-111 followed by Malaysia (57-58-71), Singapore (53-46-71), Myanmar (4-18-51), Cambodia (4-6-36), Brunei (2-5-6), Laos (1-5-27) and Timor-Leste (0-1-5).
Laos finally nailed the elusive gold in kickboxing as Soukan Taipanyavong came away with a Referee Stopped Contest (RSC) win over Indonesian Bonatua Lumbantungkup in the men's -60kg low kick final.
Over at the New Clark City Athletics Stadium, site of the tonight's closing rites, Aries Toledo remained the region's strongest man by ruling the men's decathlon with a total score 7033 points, beating Vietnam's Van Su Bui (6911) and compatriot Janry Ubas (6769).
Eric Cray earlier topped the men's 400m hurdles for his second gold after the 4x100 mixed relay in victories that more than made up for his disqualification in the century dash on a false start during one of the heats.
Other Filipino medalists in athletics on the day were Mark Diones (silver, men's triple jump), Joida Gagnao (silver in women's 3000m steeplechase and bronze in 5000m run), Fil-Am Robyn Brown (bronze in women's 400m hurdles), William Morrison (silver in discus throw), the women's 4x400 relay team of Eloiza Luzon, Jessel Lumapas, Maureen Schrijivers and Brown (bronze) and the men's 4x400 relay team of Edgardo Alejan Jr., Michael del Prado, Frederick Ramirez and Joyme Sequita (bronze).
Gina Iniong, meanwhile, delivered the second gold in kickboxing by thumping Thai Apichaya Mingkhwan, 3-0, in women's -55kg kick light final before Claude Saclag posted the same scoreline in thwarting Malaysian Mohammed Mahmound in the men's -63kg low kick final at the Cuneta Astrodome.
The national women's basketball team scored a breakthrough by upending Thailand, 91-71, for the gold at the MOA Arena with the Gilas 5 heavily fancied to complete the country's sweep of all basketball golds, including 3x3s, late in the night.
Individual gold medalists Chezka Centeno (9-ball) and Rubilen Amit (10-ball) teamed up to blank the Indonesian pair of Nony Andilah and Fathrah Masum, 7-0, to pocket the women's 9-ball doubles and cap the Phl's domination of billiards where it racked up four gold medals that went with three silvers and five bronzes.
After Sibol's 3-2 decision over Thailand in the mixed Dota 2 (PC) late Monday and 4-1 domination of Singapore in mixed Starcraft II (PC) at the Filoil Flying V Centre in San Juan, the men's trap team of Eric Ang, Carlos Carag and Alex Topacio combined for 338 to beat Malaysia (330) and Thailand (321) for shooting's third gold.
Over at the Rizal Memorial Tennis Center, the Philippines rallied past Thailand, 2-1, to complete its three-gold sweep of soft tennis then Annie Ramirez and Erwin Guggenheim hiked jiujitsu's output to five golds with victories over Malaysian Cassandra Poyong (3-0) and Indonesia's Willy Willy (100-0) in women's U-55kg and men's U-77kg, respectively.
Back in soft tennis, Joseph Arcilla provided the point in singles over Thai Kawin Yannarit, then Dheo Talatayod and Mikoff Manduriao repelled Torlarp Songweera and Teerapat Sujaritplee in the second doubles match to clinch a 2-1 win that came on the heels of the hosts' earlier victories in women's singles and women's doubles.
Over at the Angeles U Foundation gym in Pampanga, the Pinoy wrestlers suffered stinging defeats in freestyle event, settling for six silver medals in the event dominated by the Vietnamese.
Johnny Morte (men's 65kg), Minalyn Foy Os (women's 55kg), Ronil Tubig (men's 61kg), Joseph Angana (men's 70kg), Alvin Lobrequito (men's 57kg) and Noemi Tener (women's 62kg) all bowed to the Vietnamese grapplers.
At the end of the two-day event, the Phl went home with two golds courtesy of Joseph Baucas and Noel Norada, 10 silvers and a bronze, surpassing the two-silver, four-bronze performance when the event was last held in Yangon, Myanmar six years ago.
Vietnam lorded over the mat with 12 golds and two silvers.
Aside from eSports, soft tennis and jiu jitsu, the Filipino bets also reigned in 19 othersports, including a best 14-gold exploit in arnis and 10 in dancesports, and shared top honors in at least three others, underscoring their domination of the 11-nation field and sheer determination to bring the coveted SEAG overall crown back here for the first time since the "Miracle of 2005."
"This victory is very sweet given the many difficulties we had to face," said chef de mission and Philippine Sports Commission chair Butch Ramirez. "This win proves that we can achieve a lot when we come together united as one team."
"We Win As One," so goes the country's battle cry.
The Pinoy athletes did. And it was not even close.
After Team Dance Sports tangoed and waltzed its way to 10 gold medals in Day One and arnis took over with best 14-gold haul, the rest followed suit, ramming down the opposition in taekwondo (8 golds), boxing (7), skateboarding and wushu (7) while sweeping the six golds staked in Obstacle Course. Athletics also produced 11 while a lot others chipped in three or two to keep the Phl's assault going.
"I am overwhelmed by the performance of our athletes. They showed us that with proper support and encouragement, they will deliver," said Philippine Olympic Committee president and Rep. Bambol Tolentino. "I am proud of that and they proved that my faith in them was well-placed."
There were setbacks, letdowns in other fronts but they proved just to be some little blocks these gutsy Pinoy athletes had hurdled to sustain the country's relentless drive in the Games where 23 swim records were reset and seven marks in athletics shattered.
Team Phl led by just 12 golds in the first day but hiked it to 23 in the next and the Pinoy bets practically blasted their rivals in the next three days despite a string of nine-gold outputs before going unassailably ahead in the last three days while leaving the rest to battle for the crumbs of a runner-up finish.
Through it all, the Filipino athletes never wavered, never surrendered even if they got clobbered in other fronts, including sports that they were favored to contend or win. But in every setback, the Pinoys bounced back, as in volleyball, underscoring their resiliency anchored on the desire and determination not only to look good before their fans but more importantly to help fuel the country's drive for the overall championship.
So, after 14 years, Team Phl reigned again in the region's centerpiece sporting competition. But did the Pinoy athletes really improve in strength, in fighting technique and skills, and athleticsm-wise?
The athletes themselves provided the answers here and hopefully carry the momentum and the passion to win when the next SEAG is held in Vietnam in 2021. – Joey Villar, Olmin Leyba, John Bryan Ulanday, Marlowe Montenegro, Miguel La Torre, Rizanelle Beltran